Two scoops, hold the diesel
These all-electric ice cream trucks are serving up the best of summer without the fumes and noise.
When her daughter Sofia was two years old, Valaria Ortiz used to tell her if the ice cream truck was playing music, it was all out of ice cream. 
"Maybe not great parenting," said Ortiz. "But some days you just can't handle another toddler meltdown."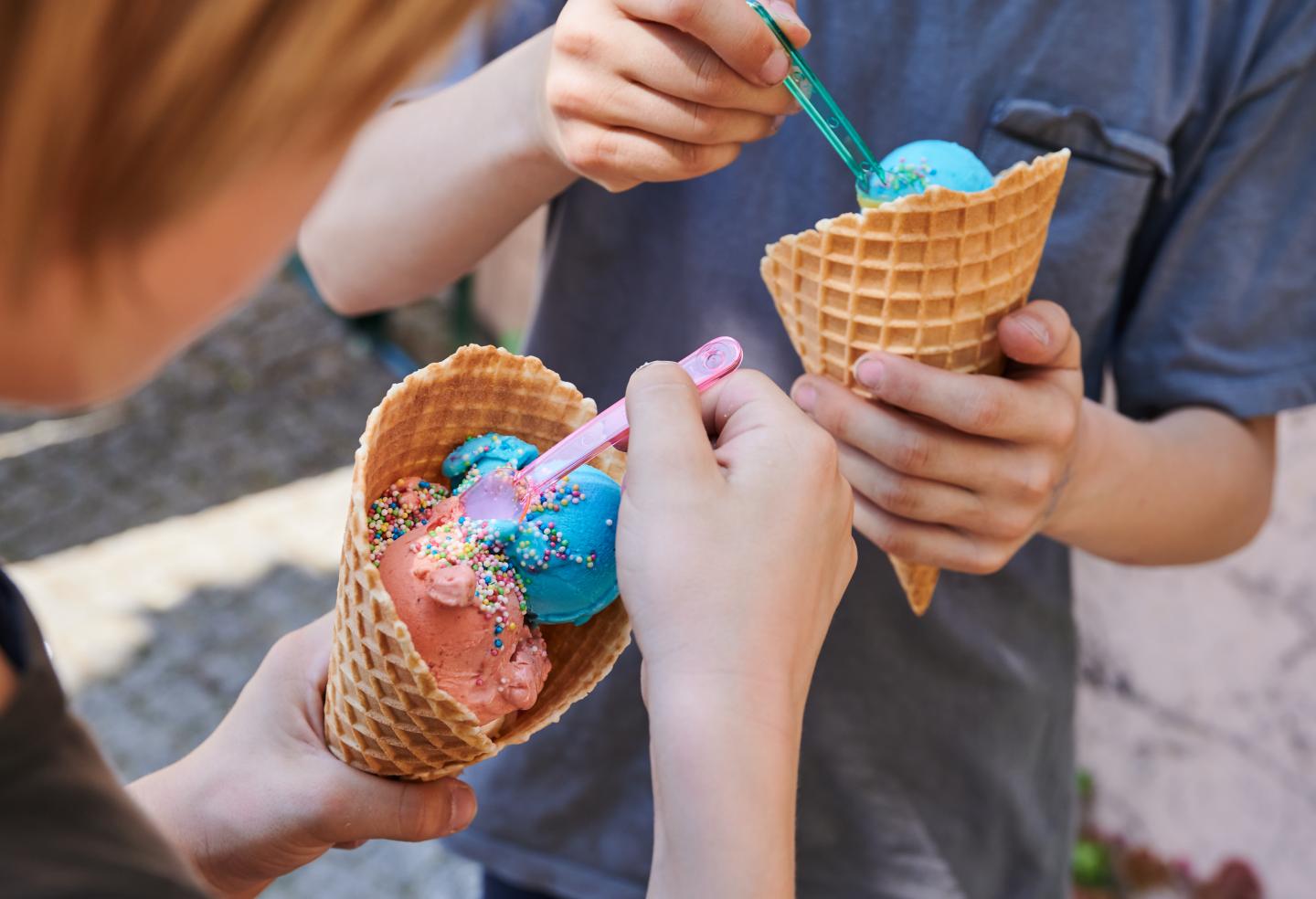 Sofia, now six, doesn't throw roof-raising tantrums over sugar anymore, but her mother still tries to avoid the local ice cream trucks that trundle around the neighborhood and idle for hours next to their favorite playground in Jersey City, New Jersey. 
That's because when Sofia was four, she was diagnosed with asthma. She struggles to breathe in the summer smog. 
"In the summer, I always check the air quality on my phone before we head to the park," said Ortiz. "But even if the air quality in the neighborhood is fine, I don't feel comfortable with her playing right next to an ice cream truck. You can see and smell that diesel pollution just spewing out across the playground." 
But thanks to an innovative ice cream shop in Pennsylvania, the sweet summer joy of an ice cream truck doesn't have to come with diesel pollution on top. 
A sweet solution: electric ice cream trucks
Most ice cream trucks, particularly older models, have diesel engines. And to keep their sweet treats frozen, they have to keep their engine running, even when the trucks are parked or turn on their generators. One ice cream truck burns the equivalent of 83 pounds of coal each day. 
Sweet Pea Homemade Ice Cream of Doylestown, Pennsylvania created the nation's first all-electric ice cream trucks in 2008.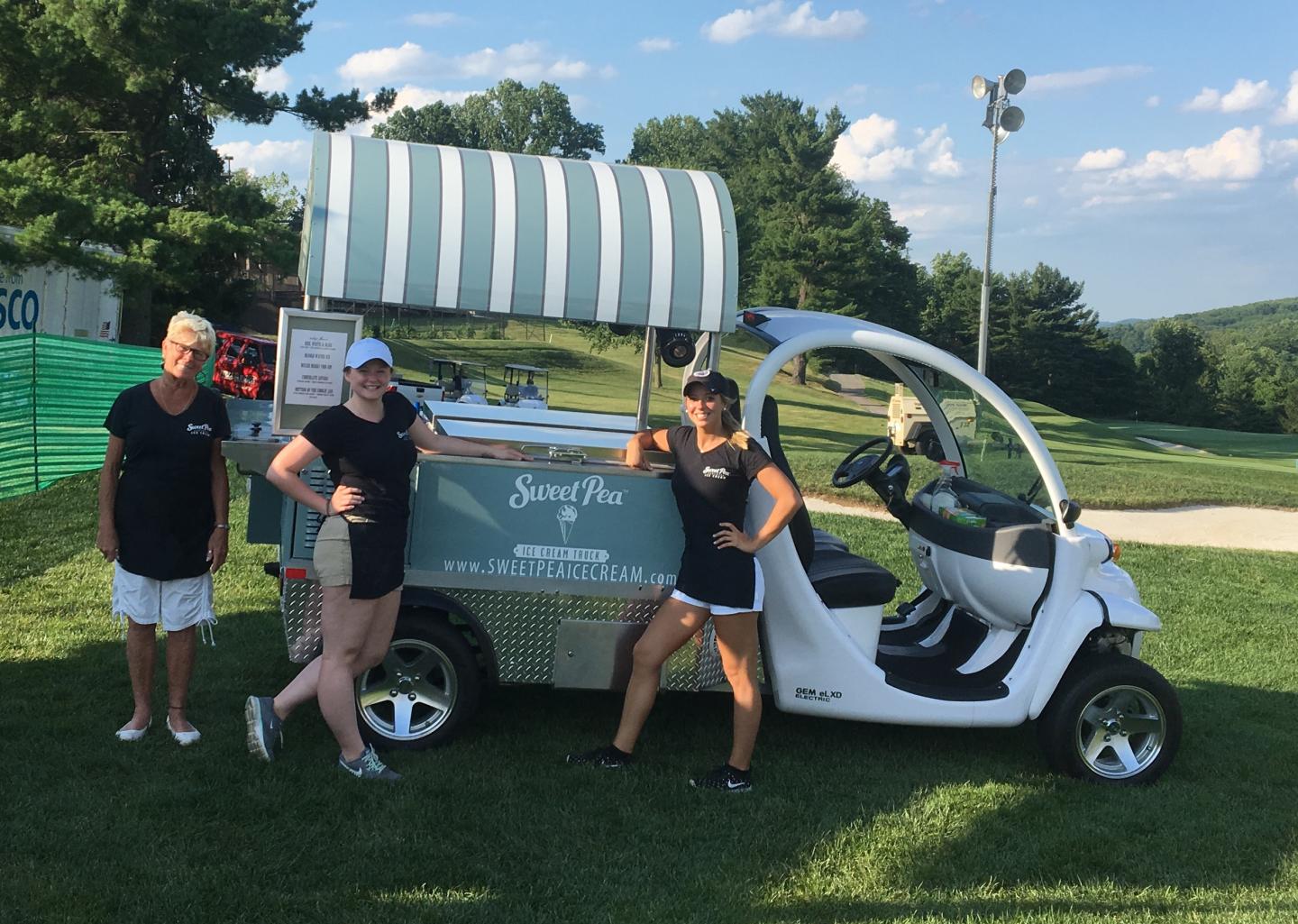 The Sweet Pea electric ice cream truck delivers cool treats. (Sweet Pea Ice Cream)
The owners of Sweet Pea — Vince and Danielle Marinelli — grew up in Newtown, Pennsylvania and started the business when a beloved local ice cream store was closing its doors. The couple bought the store, and Danielle, a registered nurse, learned how to make ice cream from scratch. 
The inspiration for the electric ice cream truck came a little later when the family went to a food truck movie night in the parking lot of their local YMCA. 
"Sitting there with my kids, I was struck for the first time by just how loud and smelly all those food trucks were," said Marinelli. "We could barely hear the movie and everything tasted just a little bit like diesel exhaust. I knew there had to be a better way." 
Marinelli, an electrician by training, started researching electric vehicles. He came across Global Electric Motorcars, a Minnesota-based company, at the time owned by Chrysler, which manufactured small, low-speed electric vehicles primarily used for maintenance work at parks and on college campuses. 
Marinelli bought the eL XD, a small electric utility vehicle, and customized the rear carrier with a canopied, battery-powered ice cream cart, designed with a nostalgic, vintage vibe. He spent that summer driving around the neighborhood with his three kids, Olivia, Jack and Nicholas, serving up Danielle's frozen creations to their neighbors. 
Because the truck is only about the size of an extra long golf cart, it only has a range of about 60 miles on a single charge. But that's more than enough for Marinelli  to tour around the neighborhood and charge at home at night. And once the truck is parked at a playground or farmers market, the batteries can keep the cart's lights on and the ice cream cold for up to 12 hours.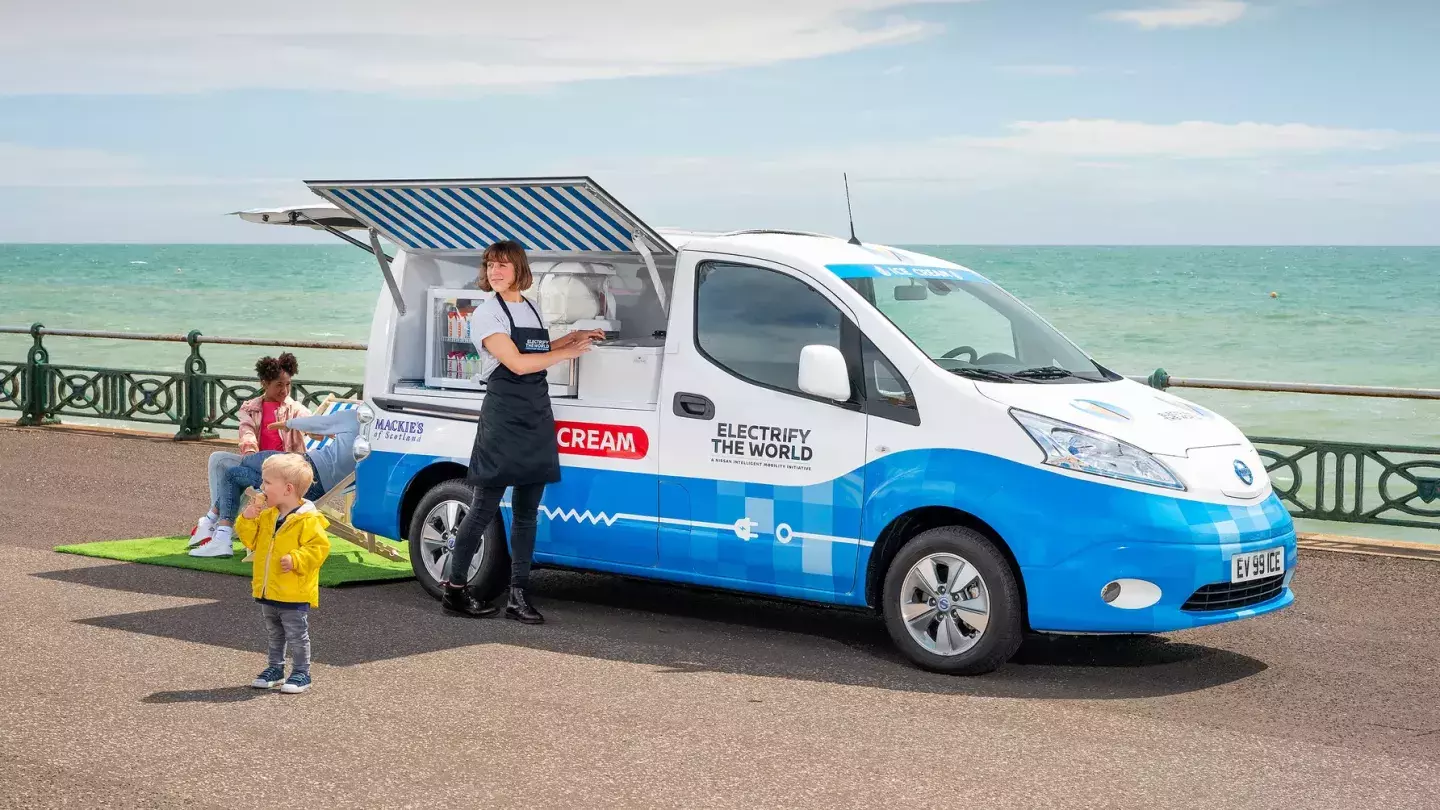 Nissan's zero emission ice cream van is serving up scoops in the U.K. (Getty)
Demand for electric solutions for mobile food vendors is only increasing as cities start to crack down on this source of local air and noise pollution. New York City street vendors are piloting electric food carts this summer; a city council member has proposed a bill that would ban ice cream trucks from using fossil fuel generators to power their equipment.
A handful of U.S. companies, like Power Cone in Colorado and Scream Truck in New Jersey, are introducing partially electric ice cream trucks. And in 2019, Nissan unveiled a zero-emission ice cream van prototype in the UK, partnering with ice cream maker Mackie's of Scotland to showcase the innovation. 
A clean ice cream fleet
Today, Marinelli has five little electric ice cream trucks, including his first, which is still running smoothly with the original batteries. The trucks are booked for weddings, birthday parties, farmers markets and much more throughout the summer. The trucks aren't just clean and virtually maintenance free, they're also very flexible. If  an outdoor event has to move indoors because of bad weather, the Sweet Pea truck can set up inside too, without filling the space with fumes.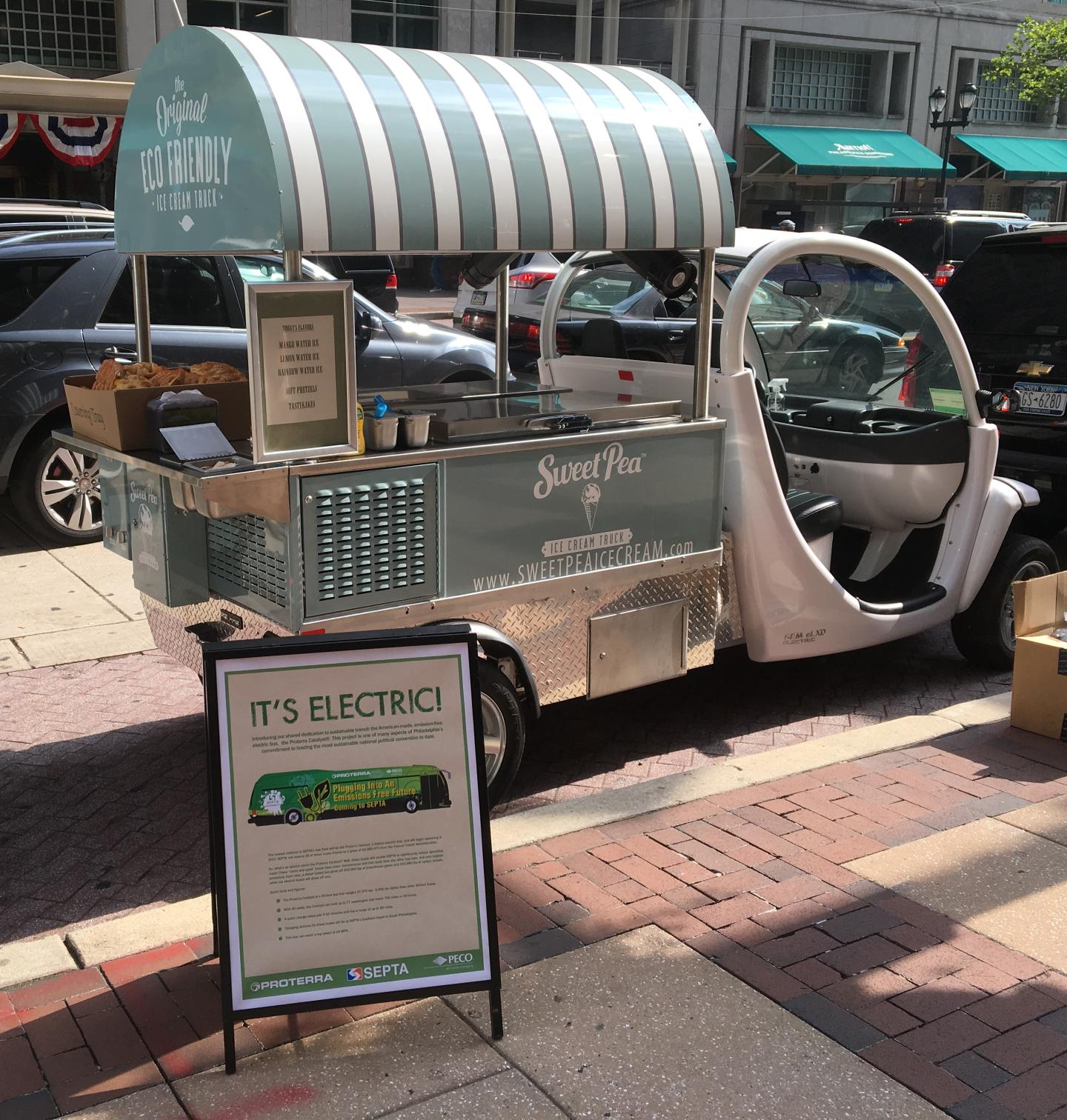 No toxic tailpipe fumes! But stay on the sidewalk, kids. (Sweet Pea Ice Cream)
Some of Sweet Pea's most popular flavors include Bottom of the Cookie Jar (vanilla with crushed chocolate chip cookies, mini chocolate chips and cookie dough) and Monkey Love (fresh bananas, peanut butter cups, peanut butter and fudge weave).
That all sounds pretty good to Ortiz and her daughter, who hope EV ice cream trucks will become the norm instead of the exception. 
"It would be nice to feel good about running toward an ice cream truck instead of running away from it," said Ortiz. 
"We're trying to do something better for the Earth and better for our kids," said Marinelli. 'It's a new take on an old favorite."
Hope for a warming planet
Get the latest Vital Signs stories delivered to your inbox