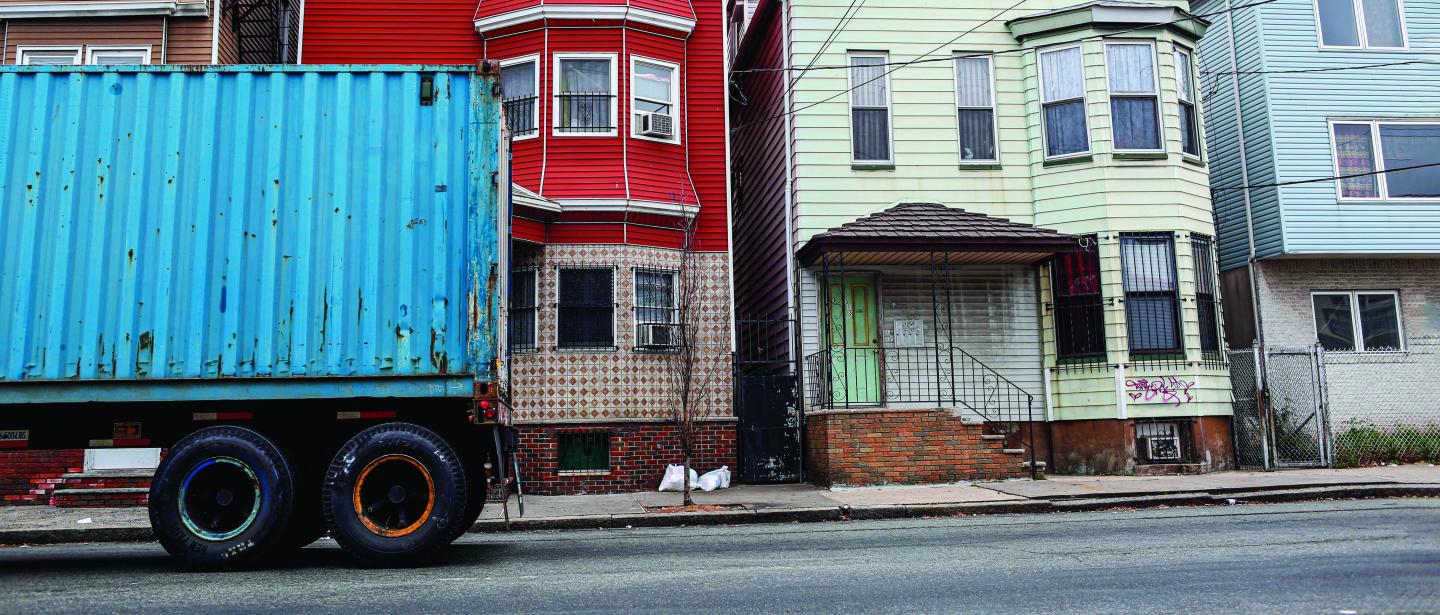 500 trucks pass through one Newark intersection in an hour. Kids are paying the price
​Air pollution has decreased in the U.S. over the past decade — but not everyone is breathing easier. 
People of color, regardless of income, are exposed to higher levels of air pollution than the U.S. population as a whole. And children living in neighborhoods where thousands of trucks rumble through on a daily basis face twice the risk of developing asthma from pollution exposure compared to kids in a different part of town.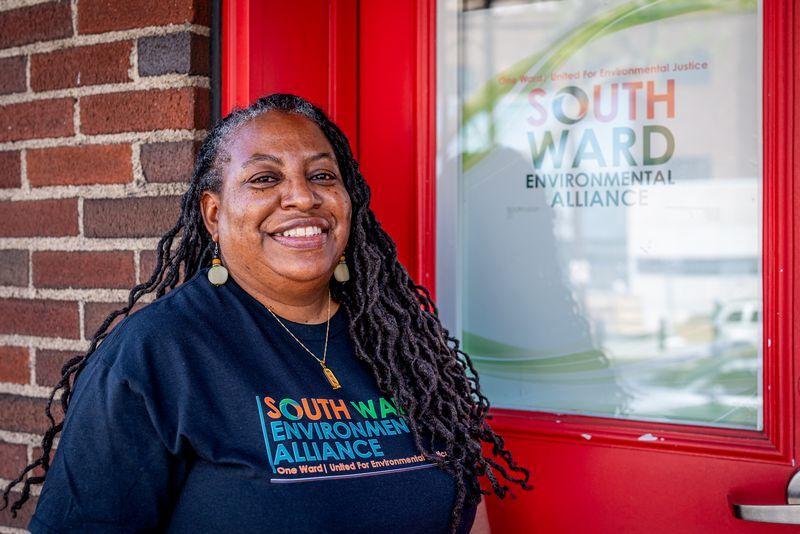 Working for Newark: Environmental justice leader Kim Gaddy. (Karsten Englander/For NJ Advance Media)
Kim Gaddy, a fourth generation Newark resident, is painfully familiar with asthma. She recalls rushing her one-year-old daughter to the hospital, coughing and gasping for air. Gaddy, then working in city politics with an ambition to become Newark's first female mayor, already had one asthmatic child.
"I thought, I have got to do something," says Gaddy. "No parent should have to see their child gasping for air like that. You're helpless." 
Since that day more than twenty years ago, Gaddy has been fighting for environmental justice in Newark. In 2015, she founded South Ward Environmental Alliance, a group representing four neighborhoods near Newark airport and the Port of Newark, two of the busiest transportation centers in the country. 
Trucks, trucks, trucks
Six major highways cross through the South Ward, creating a basket-weave of overpasses and on- and off-ramps. Trains chug by on two rail lines. People on their way to Newark airport drive by overhead, never seeing the neighborhoods below where thousands of people live near a waste transfer station, metal and paper recycling facilities, truck repair shops and factories. New Jersey's largest incinerator lies just north of here. Warehouses are springing up on street after street. 
"We're surrounded," says Gaddy, 58, pointing out each facility on a tour of the neighborhood. "Recycling. Warehouses. Homes. Industry. Homes." 
And everywhere, there are trucks. Semis, flatbeds, tanks, 18-wheelers, dumps, car carriers, waste haulers, box trucks, you name it.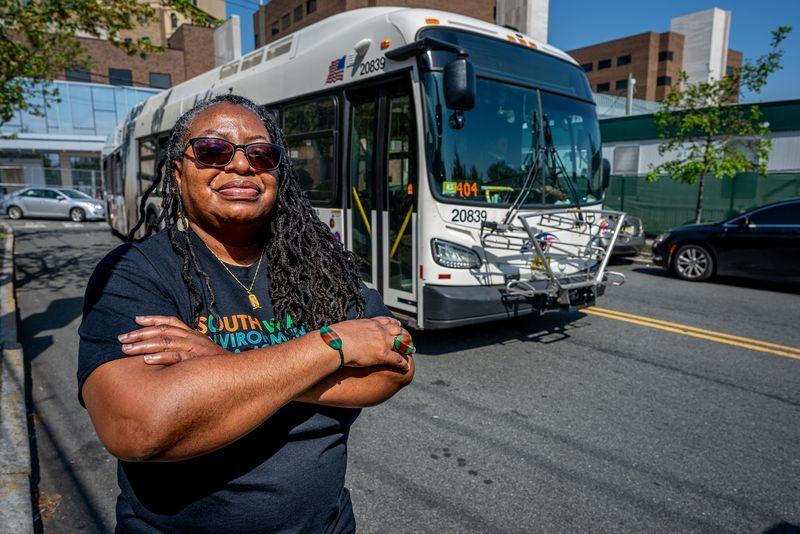 1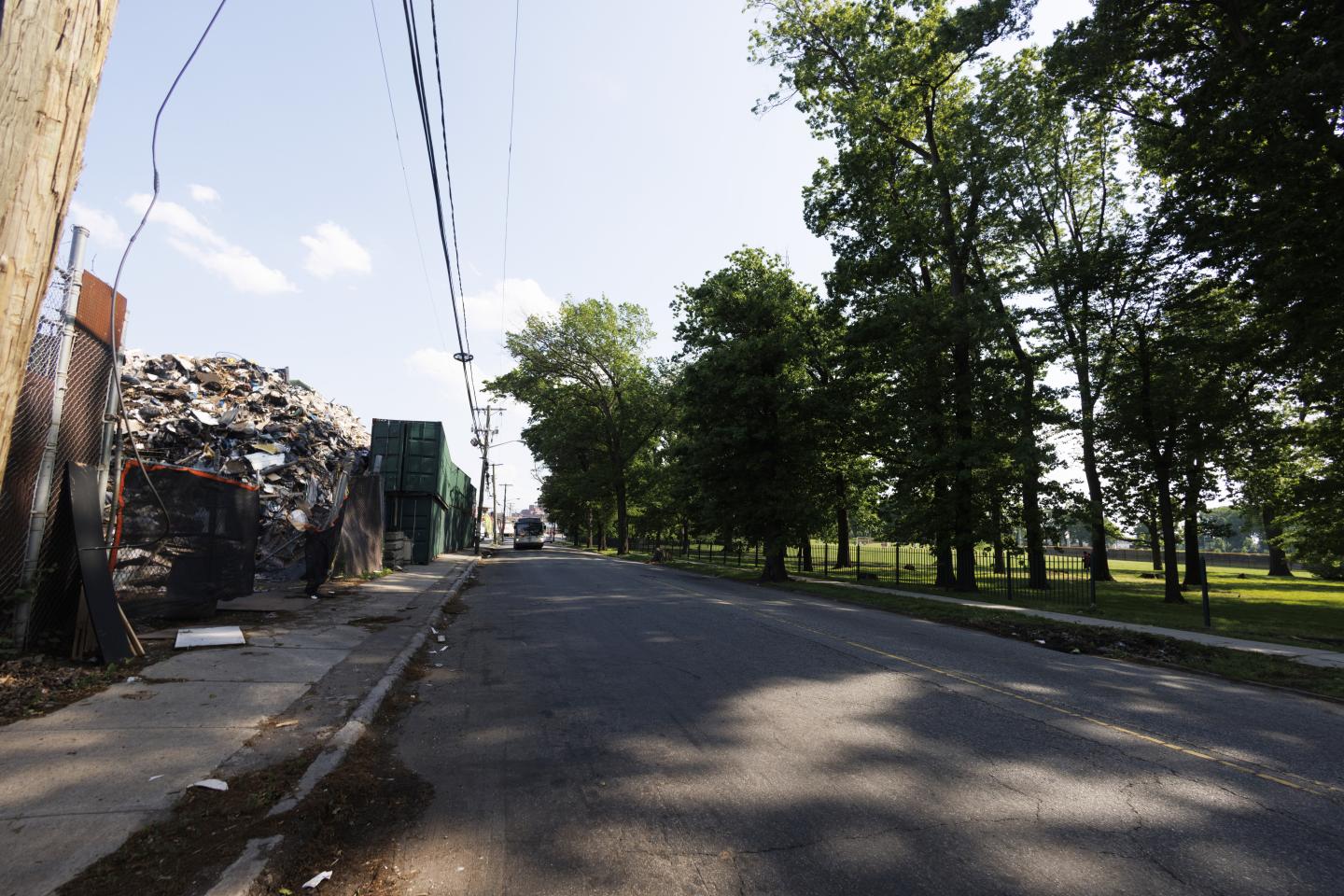 2
Many of these trucks run in and out of the port and the airport. But others serve industrial facilities and businesses in the neighborhood, many located just a block away from homes, a senior center, schools and the Olmsted-designed Weequahic Park, where children and adults play.  
In April, SWEA organizer Asada Rashidi, 21, helped gather local residents and high school students for a neighborhood truck count. Armed with clipboards, counters, air pollution monitors and masks to reduce exposure to vehicle exhaust, the citizen scientists counted 5,000 trucks in three hours. 
The unequal burden of pollution
Diesel trucks and buses make up less than 10% of vehicles on U.S. roads, but they're responsible for more than half of the harmful tailpipe pollution from all road vehicles.
While the causes of asthma are multifold, recent research has pinpointed traffic pollution as one of these underlying causes, not just a trigger of flare-ups. This pollution can be concentrated in neighborhoods stocked with facilities that draw truck traffic — like warehouses, ports and industrial sites. 
Places like Newark's South Ward. 
Gaddy and her children all have asthma. In 2004, asthma killed Gaddy's brother-in-law Greg Westry, who collapsed on his Newark porch trying to catch his breath. Rashidi, a Newark native, has two brothers with asthma. In 2016 and 2019, two children from the same Newark school died of asthma attacks.
While one in ten kids across Essex County, New Jersey, have asthma, in Newark, the rate is one in four, says Dr. Khalil Savary, a pediatric pulmonologist at Rutgers University and Beth Israel Hospital in Newark. 
"When you have a high concentration of people who have lower socioeconomic status,  suboptimal housing, who were born prematurely, whose parents have asthma, and then you surround them in this net of traffic — I-95, 78, 280, 80, the airport, the port, the rail lines — that's how you get this dynamic of respiratory illness in Newark," says Savary. 
Asthma is a leading cause of missed school days and absenteeism in Newark. "When kids miss school, parents miss work," Savary says. "They don't get promoted. They're more likely to get terminated. I see this regularly."  
A countrywide blight
On the other side of the country, Environmental Defense Fund research in the Bay Area has shown that kids in urban neighborhoods with heavy truck traffic can face twice the pollution-related asthma risk compared to less-trafficked neighborhoods in the same city. 
Maria Harris, an epidemiologist with EDF, has worked with partners to map similar patterns of inequality in Austin, Baltimore, Boston, Chicago, New York, Philadelphia and Washington, D.C. 
In the New York metro region, air pollution is estimated to contribute to more than 21,000 children developing asthma each year. Across the region, around 20% of all childhood asthma cases are attributable to air pollution — but in the neighborhoods with the most traffic-related pollution, including parts of Newark, it can be up to 30%.
"In cities across the country, we see that air pollution and asthma impacts are not evenly distributed," says Harris. "Pollution hotspots are having a dramatic effect on kids' health." 
Cleaner air, stronger lungs
Community leaders like Gaddy and Savary educate families and school staff on ways to reduce children's exposure to asthma triggers like dust, mold and chemicals in school and at home.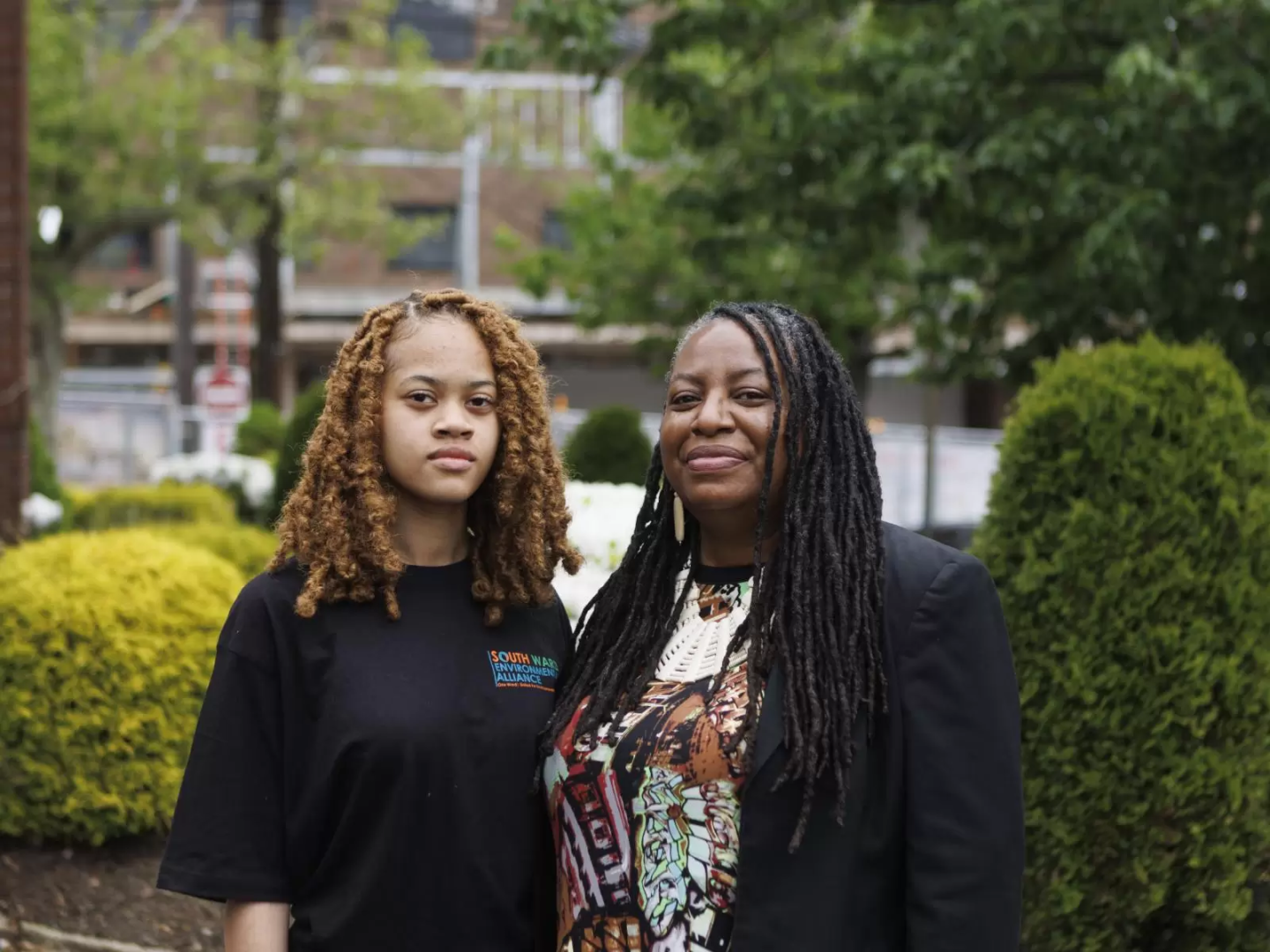 "She's the future," says Gaddy, of SWEA's new environmental justice organizer Asada Rashidi (left), a Newark native and Spelman graduate with a degree in environmental science. (Tamara Fleming)
They're also making progress cleaning up trucks. In 2021, New Jersey became the first eastern state to adopt California's Advanced Clean Truck rule, which requires manufacturers to increase the number of clean trucks they sell in the state, reducing both air pollution and climate pollution. 
Gaddy calls the move a good first step, with one important caveat: "Communities like mine with asthma and health issues need zero-emission vehicles first." New Jersey is one of 17 states that are working together to accelerate the deployment of clean trucks and buses. EDF's Marilynn Marsh-Robinson is advocating for a targeted clean truck rollout that will reduce the burden of pollution in communities like the South Ward. 
"We could not do this work without partners like Kim who organize residents, perform truck counts and provide a deeper understanding of community impacts," says Marsh-Robinson. "They are often excluded from economic development and policy discussions, even though their wisdom and lived experiences are essential to developing effective solutions."
Regulators needs to do more
Research by EDF shows that eliminating pollution from about two-thirds of the trucks and buses on the road — including delivery vans, garbage trucks and box trucks — would result in 1,500 fewer premature deaths, 1,400 fewer hospital visits, and 890,000 less respiratory flare-ups and lost or restricted work days each year. 
This year, the EPA has proposed strengthening pollution standards for these vehicles for the first time in 20 years. But the proposal doesn't go far enough, says EDF senior counsel Peter Zalzal, who is urging the EPA to strengthen its proposal and lay the groundwork to make all heavy-duty trucks zero-emission by 2035.
The final rule will be issued at the end of the year. In the meantime, SWEA, EDF and others continue to advocate for state, city, and company policies that put more zero-emission vehicles on the road now, prioritizing communities near ports, warehouses and other high-traffic areas. 
"I would like to see a collaboration between business and communities centering on the health of communities," says Gaddy. "If you protect health before profits, that's a paradigm shift. We can't change history, but we can create a healthier future."
Hope for a warming planet
Get the latest Vital Signs stories delivered to your inbox