How did Norway go electric?
The cold and mountainous Scandinavian country has more electric cars per person than anywhere else in the world.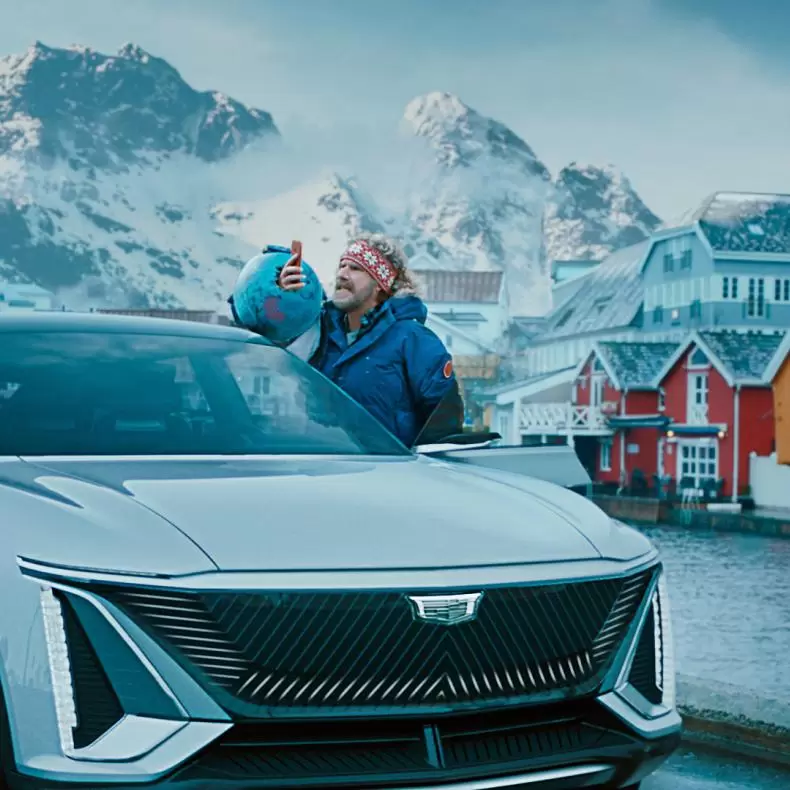 Comedian Will Ferrell boasted how impressive Norway's EV market was in an ad during Super Bowl LV. (General Motors)
With its rugged terrain, long driving distances and chilling winters, Norway may not seem like an ideal place to start an electric car revolution. 
But electric cars accounted for 79% of new passenger vehicles sold in 2022 (87% if counting plug-in hybrids).
Its per capita share of electric vehicles is more than double that of second-place Iceland.  
So how did Norway, western Europe's biggest gas and oil producer, become the undisputed capital of vehicle electrification? 
We took a look at the land of mountains, fjords and midnight sun to find out. 
Electric vehicle incentives
To bring about its transformation, Norway focused on making electric vehicles financially attractive and convenient to own. 
In 1990, the country did away with import taxes on zero-emission vehicles. It then reduced and exempted them from other taxes that polluting cars pay, and threw in perks such as lower road tolls, free ferry crossings, access to bus lanes and free public parking.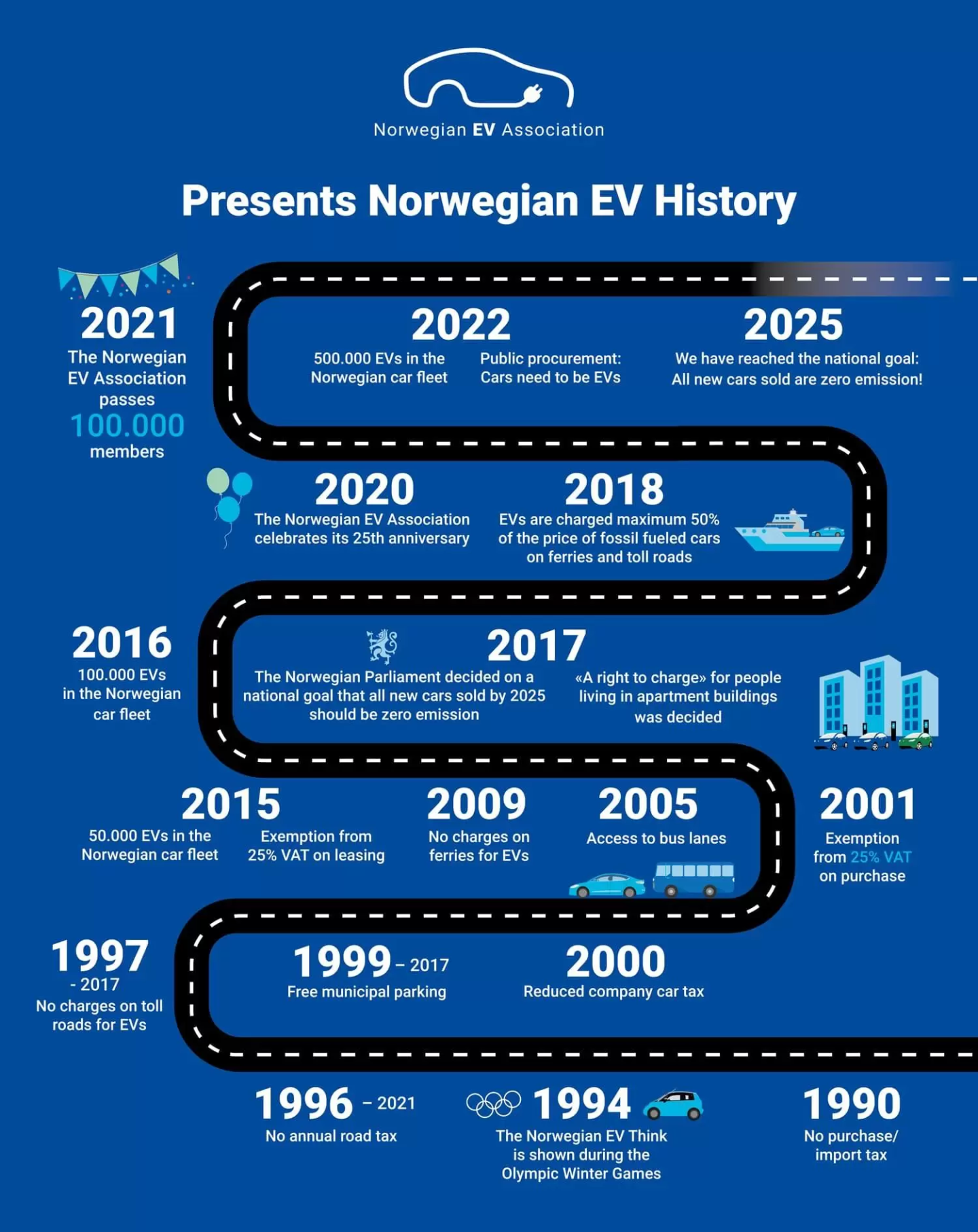 Norway's winding road to electrification. (Norwegian Electric Vehicle Association)
The government offered subsidies to housing associations that purchase and install charging stations, and then stepped in to ensure that charging points were easy to use and equitably distributed. 
In 2008, Oslo launched the world's first municipal EV charging system, and by 2015 there were 10,000 charging stations countrywide. 
To facilitate long distance driving, Norway set a target of at least one fast charging station every 50 kilometers (31 miles) on major roads. In 2016 it opened the first supercharger in rural Nebbenes, with capacity to simultaneously charge 28 cars. 
By 2016, plug-in electric vehicles had captured nearly a quarter of the auto market and the country aims for every new car, urban bus and light van to be zero-emission by 2025. 
Today, Norway has more than 25,000 charge points, with more chargers per EV than any other place in the world. Oslo is replacing its remaining diesel-fueled buses with electric models this year, making it the first capital city to have an all-electric public transport system. Taxi drivers can also boost their batteries wirelessly while waiting at taxi stands, using induction charging systems.
Is it too cold for electric cars?
Even in Norway's northernmost Arctic region, Finnmark, where temperatures can plummet as low as -60oF, electric cars accounted for 54% of new car registrations last year — an indication that cold temperatures are not an insurmountable issue for electric cars. 
Testing by the Norwegian Automobile Federation found that electric cars have an average range loss of close to 20% in winter weather. Since that 2020 test, more models feature preheaters to enable more range and faster charging, and heat pumps to direct warm air into the cabin — an upgrade that prevents 10-15% of range loss.
"Even in the northernmost parts of Norway — an area with huge distances, more reindeer than people, and really low temperatures in the winter — you can get around easily in an EV," says Christina Bu, secretary general of the Norwegian Electric Vehicle Association. 
(Other frosty northern countries are also rapidly going electric; zero-emission vehicles made up about a third of new car sales in both Sweden and Iceland in 2021.)
Gird the grid to charge electric cars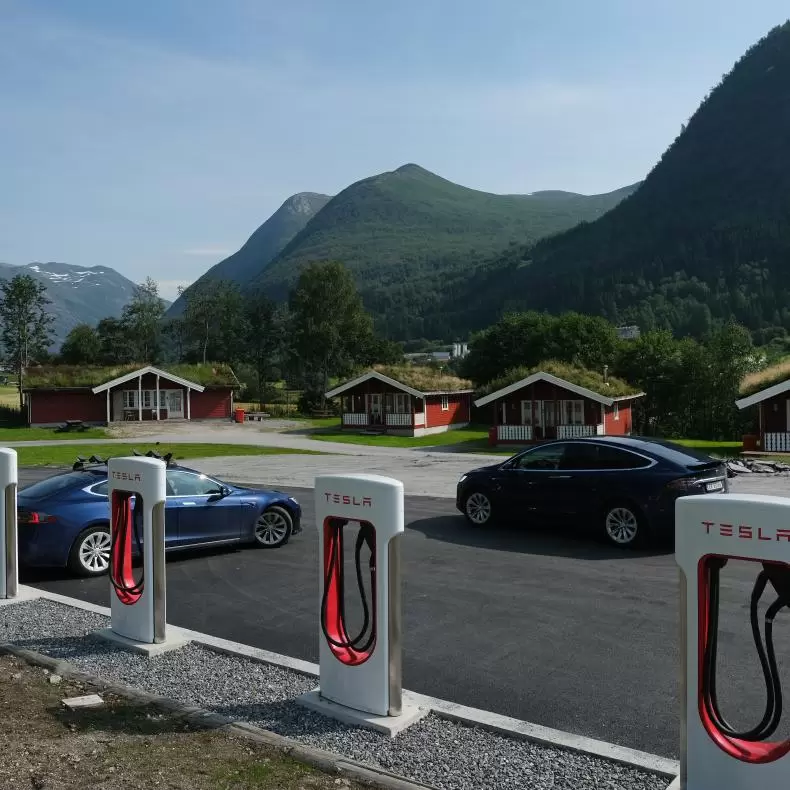 Tesla superchargers in Skei, Norway. (Getty)
Norway's electric grid was already well equipped to handle the country's mainly electric heating needs. But the country is also investing in modernizing its grid by enhancing transformers and cables and adding smart control systems.
"Grid expansion and modernization are vitally important to support the increased demand for electricity that comes with widespread electric vehicle adoption," says Pamela McDougall, who directs Environmental Defense Fund's grid modernization strategy. 
Norway also encourages customers to install resources such as batteries and solar panels. 
"If you do it in a smart way, you can get a more dynamic and adaptive system while minimizing the need for grid expansion," MacDougall says.
Hope for a warming planet
Get the latest Vital Signs stories delivered to your inbox