What it's like to drive an electric car
Hear from three drivers who gave up gas.
Consumers are warming up to electric cars, but about 20% of people still say they wouldn't consider buying an electric vehicle. 
Among their top concerns are affordability and the availability of chargers — after all, no one wants to get stranded.
But are those fears founded?
We spoke to three drivers to get the inside scoop on what it's really like to drive an EV.
"Gas just feels dirty and expensive to me now."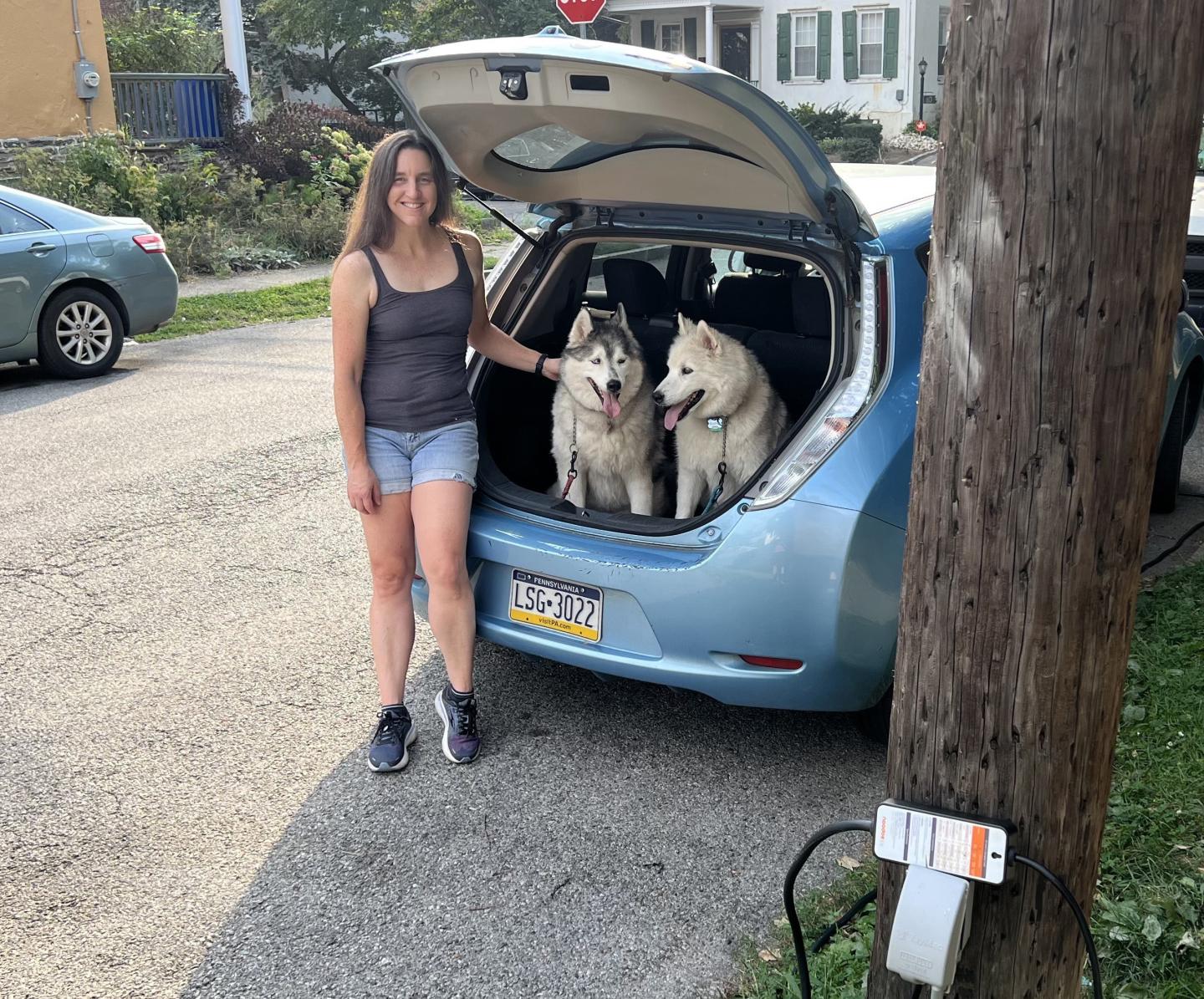 (Courtesy of Shana Kennedy)
Name: Shana Kennedy
Occupation: Small business owner
Location: Philadelphia, PA
EV: Nissan Leaf
Shana Kennedy never thought about buying an electric car until she inherited a sibling's Toyota Prius. "I loved not having to pay so much for gas," she says. "It was like a special treat." 
So, in 2021, when looking for a car to replace the Prius, she started investigating EVs. She asked all the typical questions: Was an all-electric vehicle a realistic choice for her lifestyle? Could she afford it? How far would she be able to go on one charge? 
"We ended up with a 2015 Nissan Leaf. At $13,000, it was within our budget," she says. 
It goes 80 miles on a charge, a limited range compared to newer EVs, which can travel up to 300 miles per charge — but Kennedy, who lives in Philadelphia, says 80 miles turned out to be all she needs. 
"I drive it for everything I do locally: shopping, running errands. I can even throw my bike in the back or our two giant huskies," she says. 
Adjusting to EV life: Many EV owners rely on charging at home. But Kennedy's Philadelphia home doesn't have a garage, so she runs a charging cable from her house out to where she parks on the street. When she can't park near her home, Kennedy "fuels up" at a nearby fast charging station that fully charges her battery in just 20 minutes. "It costs $15, but that's a bargain compared to gas," she says.
Finding support: When she has a question, Kennedy turns to social media. She joined the Facebook group Women Who Drive Electric. "It's full of practical advice and helpful tips," she says.   
No going back: "Now that I've gotten used to it, I think I'm a permanent convert," Kennedy says. "Charging can be a little tricky, but I know more charging stations will come, and gas just feels dirty and expensive to me now."
"For local driving, nothing beats an EV."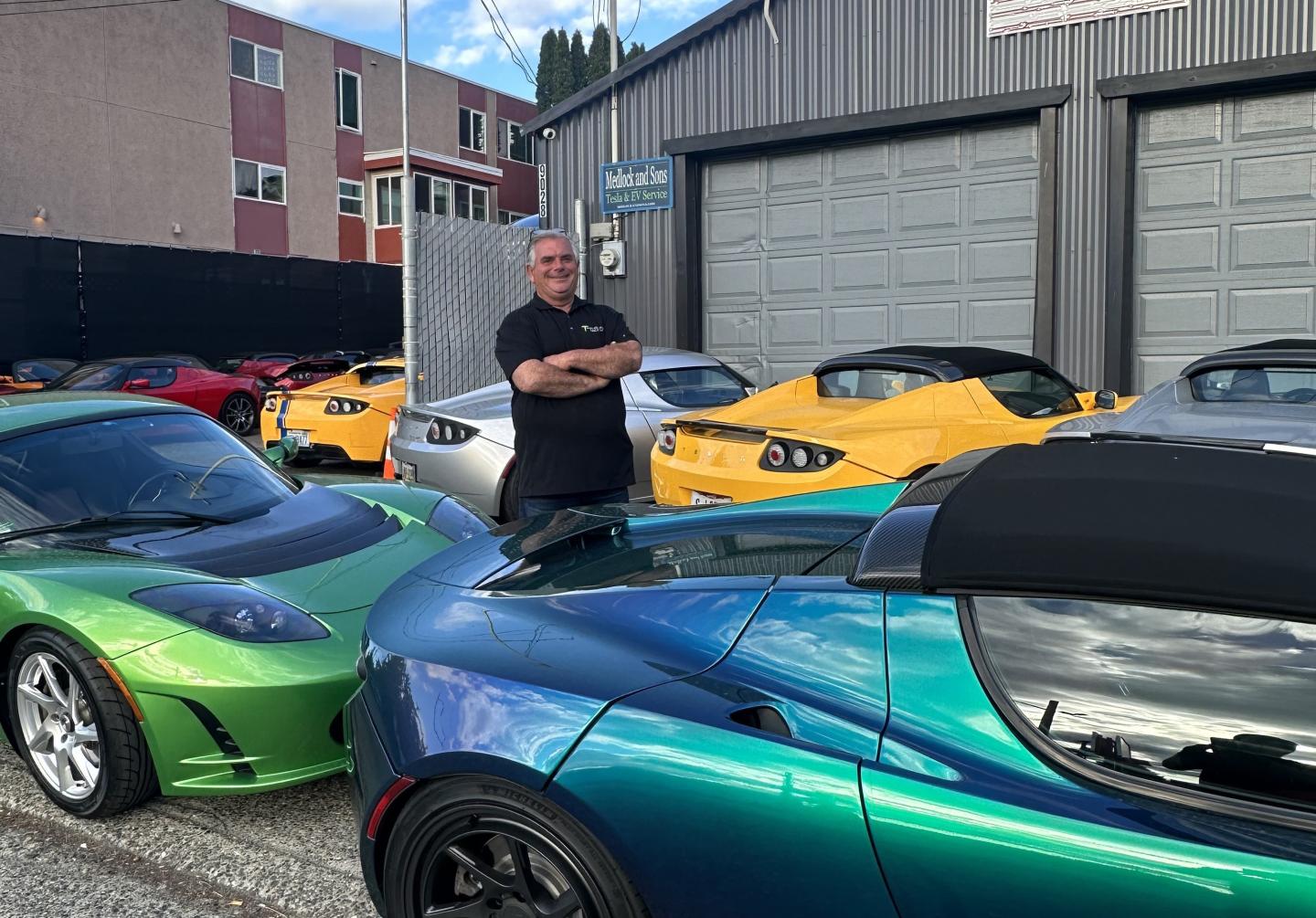 (Courtesy of Carl Medlock)
Name: Carl Medlock
Occupation: Auto mechanic
Location: Seattle, WA
EVs: FIAT 500e and several Teslas
Carl Medlock started his career fixing Lincolns. 
"I was the grunt," he recalls. "I did the rattles, squeaks and water leaks." 
After completing advanced training, he began fixing Fords, before rising to service manager and eventually opening his own dealership. "I owned a small car lot, just several thousand cars," he says. 
In 2008, Medlock became an early Tesla employee. "They were looking for someone to manage their west coast territory who had been a technician and who had also owned a business," he says. 
Medlock was one of few candidates who had done both. 
"I managed everything from Calgary to Hawaii," he says. "And because I could fix cars, I'd also travel to client's homes to make repairs as a part of Tesla's 'ranger' service." 
Today, Medlock runs an independent EV repair shop in Seattle, primarily working on Tesla Roadsters. (In fact, he's one of the only people in the world who works on the discontinued Roadster.) He also recently opened a second shop building custom electric street rods for clients — essentially electrifying classic cars.
What it's like to work on EVs: Without a combustion engine, there are fewer components that can break. However, when an electric car does have a problem, it can be more complex. "Technicians with the skills to work on EVs are in demand right now," he says. "I pay my guys $50 to $60 per hour. But there's no changing tires, that's kindergarten. This work is mostly technical."
Why he sometimes chooses not to drive his EV: "If I take a long trip, I drive my gas-powered truck," he says. "I don't have range anxiety. I just don't like sitting at a charger when it's faster to fill up a tank and get on my way." 
While Medlock is willing to pay for the convenience of not having to wait to charge while on a road trip, for local driving, he prefers his electric Fiat. "When gas prices were high, I could spend $200 a week just on fuel for my F-150," he says, adding that "for local driving, nothing beats an EV" (except for the thrill of his motorcycle).
"I don't smell any fumes anymore."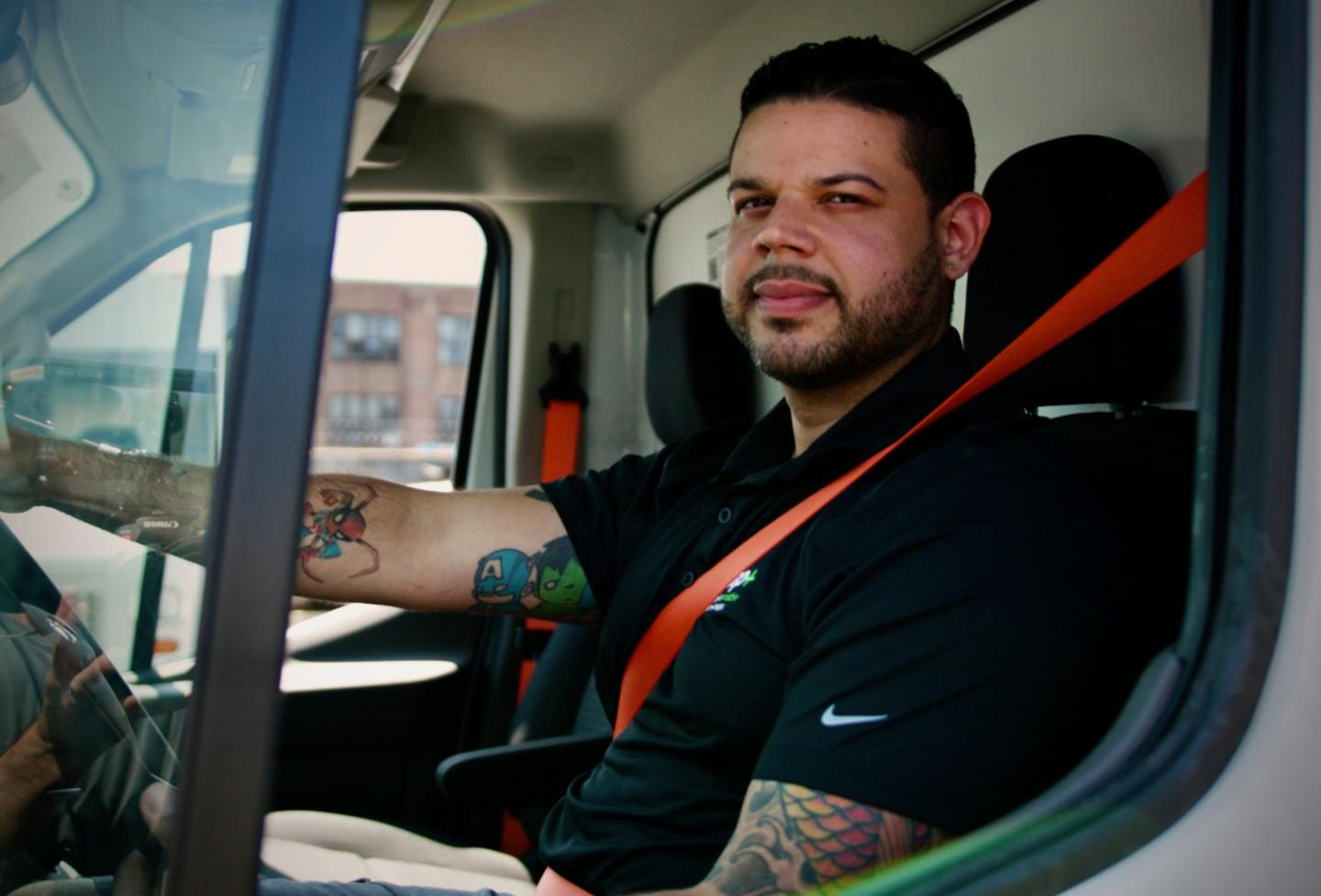 (NACFE)
Name: Arnel Sencion
Occupation: Delivery driver 
Location: Queens, NY
EV: Ford E-transit
Growing up, Arnel Sencion helped run his family's supermarket. All day, he'd watch delivery trucks come and go, and when his cousin got a job driving one of those trucks for Frito-Lay, he decided to follow in his footsteps. 
"It's a good company with good benefits," he says. 
Since 2004, he's driven a gas-powered box truck. But in June, he was selected to drive a new electric delivery van — part of Frito-Lay's commitment to reducing the company's emissions. 
"Once I heard it had air conditioning and a smoother ride, I was excited," he says.
The biggest change: "I don't smell any fumes anymore," he says. "And it's very quiet." Otherwise, he says the Ford e-Transit is as fast or faster than his old truck. "It's also a little narrower so I can fit through places easier. It's easier to make turns, and it has power windows and power mirrors," he says. "It drives just like a modern car."
On charging: Sencion is a local delivery driver, so his routes are short and predictable. "I usually drive about 20 miles a day going back and forth to stores," he says. Given the low mileage, he only needs to charge the e-Transit once a week. "I just plug it in at the terminal and the next day it's fully charged."
Making the transition: "I know some people don't like change, but this was a better change — both for me and for the environment," he says. Many of his co-workers have been eager to find out what he thinks about driving an EV. "I tell them it's the same, you just don't have to fuel up," Sencion says. "Now they've seen it, a lot of the other drivers are eager to get electric trucks," he says.
Hope for a warming planet
Get the latest Vital Signs stories delivered to your inbox