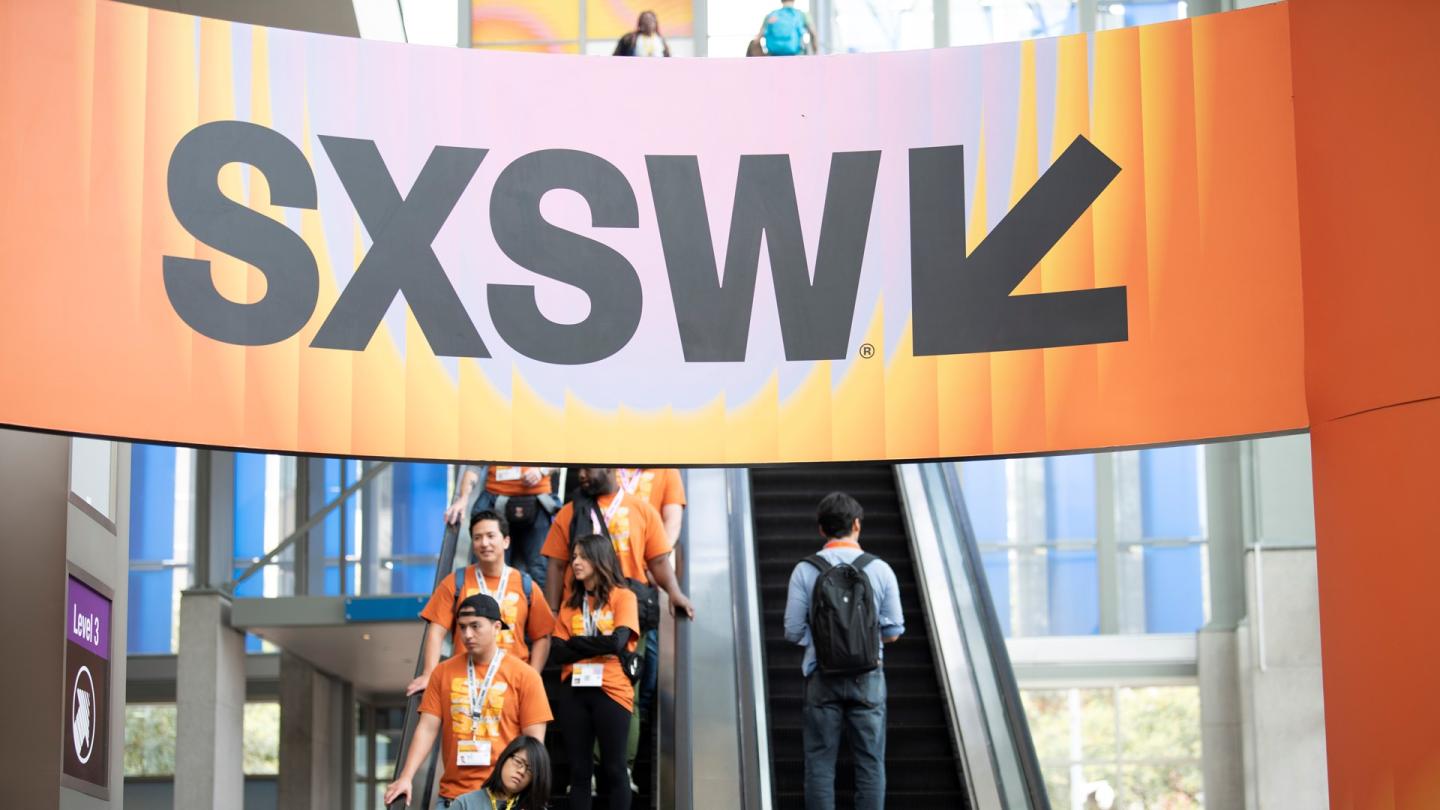 Tech, talk and great ideas: 6 more cool climate finds from SXSW
We scoured South by Southwest for fun, inspiring and wacky climate ideas and innovations. It didn't disappoint.
Coolest travel tech: The Lightship L1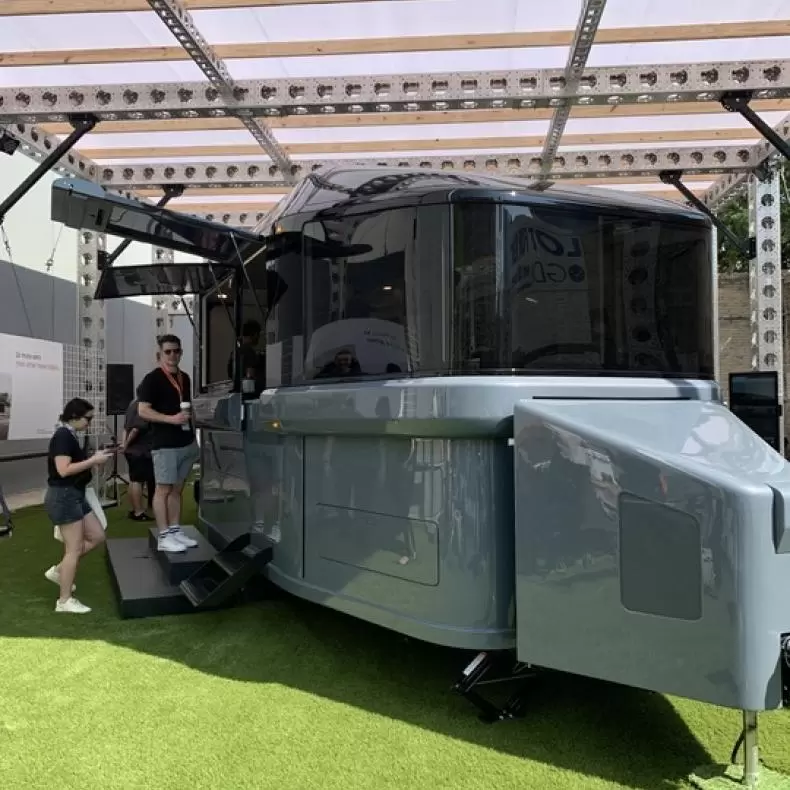 Making its debut at SXSW was this eco-conscious roadtripper's dream come true — an electric travel-trailer with integrated solar panels from the new RV company, Lightship. When in camp mode, it provides sleeping space for four with a bathroom and full kitchen. When you're not on the road, the Lightship L1's solar panels can provide back-up power for your home or charge your EV.
Its self-propulsion system means you won't lose any fuel efficiency or range when towing it, and Lightship co-founder Ben Parker told us it's three times more aerodynamic than a traditional trailer. All these perks come at a cost, though. The L1 starts at $125,000 (though it is eligible for some of the tax credits included in the Inflation Reduction Act.) Production is expected to start in late 2024. — Vanessa Glavinskas, Climate writer
Strangest solution to our plastics problem: Hungry enzymes
This year, we'll produce another 400 million tons of plastic. (For perspective, that's the collective weight of every human on the planet.) And just a fraction of that — about 9% — will get recycled. Most will end up in a landfill, or worse, the ocean. But in the decades since humans started using plastics, nature has found a way to deal with it: Enzymes.
Discovered by a scientist in Japan who noticed that a discarded plastic bottle seemed to be disintegrating where bacteria was growing on it — scientists have since figured out how to engineer these enzymes to break down plastic much more efficiently. In a lab, the FAST-PETase enzyme can convert a plastic bottle back into its original monomers in a matter of days. Even more astounding? Those monomers have the exact same property traits as virgin plastic derived from oil — eliminating the need to extract more oil to make plastic. Engineer Hal Alper says we'll be able to roll out these plastic-eaters at scale in less than 10 years. — VG
Best green career move: House painter to hemp builder
Kim Croes used to run a house painting business in Michigan. She loved the hands-on work, but hated the headaches and breathing issues from the fumes.
Researching healthier building alternatives, Croes stumbled across hempcrete — a carbon sequestering, renewable building material made from the hemp plant. 
She re-launched her business as FiberFort, a hemp-based green building company. She and her team just completed their first home, and now she's fielding calls from all over the world on how to build with hemp. "It's a little overwhelming," says Croes, but she's looking forward to growing her new green business. — Shanti Menon, Energy editor
Most inspiring soundbite: An empowering proverb
As a long-time attendee of SXSW, I have often found hope here even when dealing with tough topics like climate change. My inspiration for this trip came from Elizabeth Nyamayaro, a special advisor at the United Nations World Food Programme. During a panel on the humanitarian crisis of climate change, she said: "If you think you are too small to make a difference, try spending a night in a room with a mosquito." Back to the day job! — Jordon Brown, Digital producer
Most inspirational speaker: Leah Stokes
Sometimes big thinkers can get lost in their ivory towers. Not so Leah Stokes, a UC Santa Barbara professor, climate podcaster, author and major force behind the design of last year's historic federal climate legislation, the Inflation Reduction Act. While climate change can be complicated, Stokes was an onstage charmer, breaking down the problem to one simple solution: Use clean energy to electrify everything. Doing so would cut U.S. carbon pollution by as much as 75%.
And while impactful, scalable progress requires collaboration across governments and beyond, going electric in your own life is something almost everyone can do, Stokes said. I knew there were several filing cabinets'-worth of scientific research behind her presentation, but she made it all fun, compelling and easy to understand. By the end of it, I was ready to take my credit card straight to the nearest induction stove store. — Liz Galst, Climate writer
Most exciting oceans solution: Kelp farming
The waters off the coast of Maine are warming faster than almost any other part of the world's oceans. This puts at risk the livelihoods of Maine's 4,100 lobster farmers, who rely on cold water for their catch. Enter Atlantic Sea Farms, a woman-led business that works with Maine lobster farmers to grow climate-friendly kelp.
"Americans eat lots of seaweed, whether in the form of seaweed snacks or that bright green seaweed salad," said President and CEO Briana Warner. "But when I took over in 2017, the entire Western Hemisphere produced about 30,000lbs of line-grown kelp." (The rest — about 16 million pounds in 2019 — is imported from Asia.) ASF's regeneratively grown product requires no fertilizers and draws carbon dioxide and other pollutants like excess nitrogen out of the ocean. "We see seaweed farming as a tool for working waterfront communities to thrive in the face of climate change," says Warner. — LG
Hope for a warming planet
Get the latest Vital Signs stories delivered to your inbox