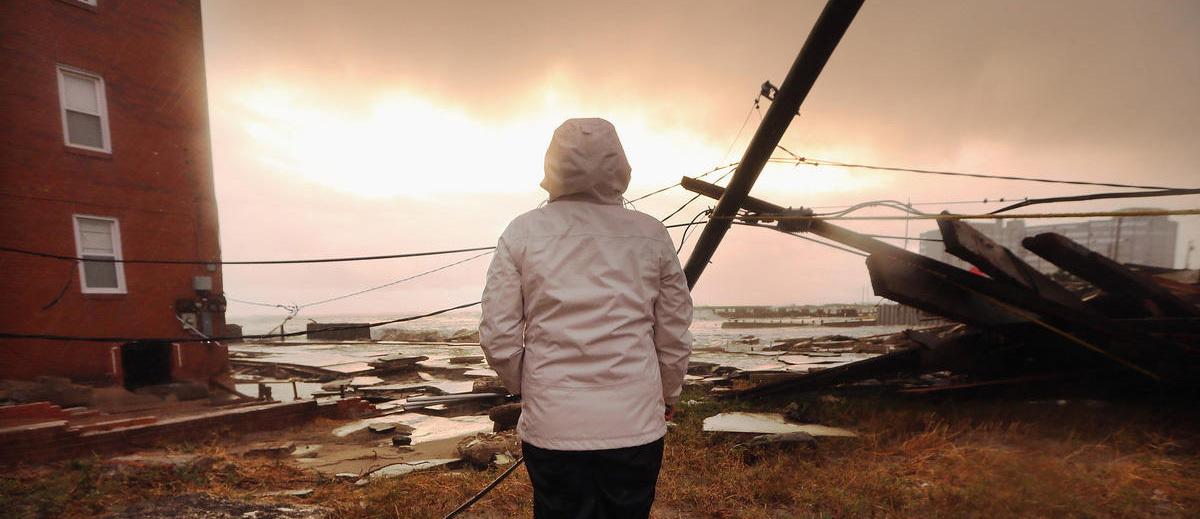 Preparing for the next hurricane
Ten years ago, Hurricane Sandy devastated New York and New Jersey. Scores of flood resilience projects are now underway, but the risks posed by climate change keep rising.
​Full moon. High tide. 
The worst possible time for a 1,000-mile-wide hurricane — the biggest ever to rise up out of the Atlantic — to slam into a low-lying, densely populated archipelago. 
Yet that was the moment, on October 29, 2012, when a storm called Sandy sent a wall of Atlantic water surging toward the shores of New York City and the New Jersey coast.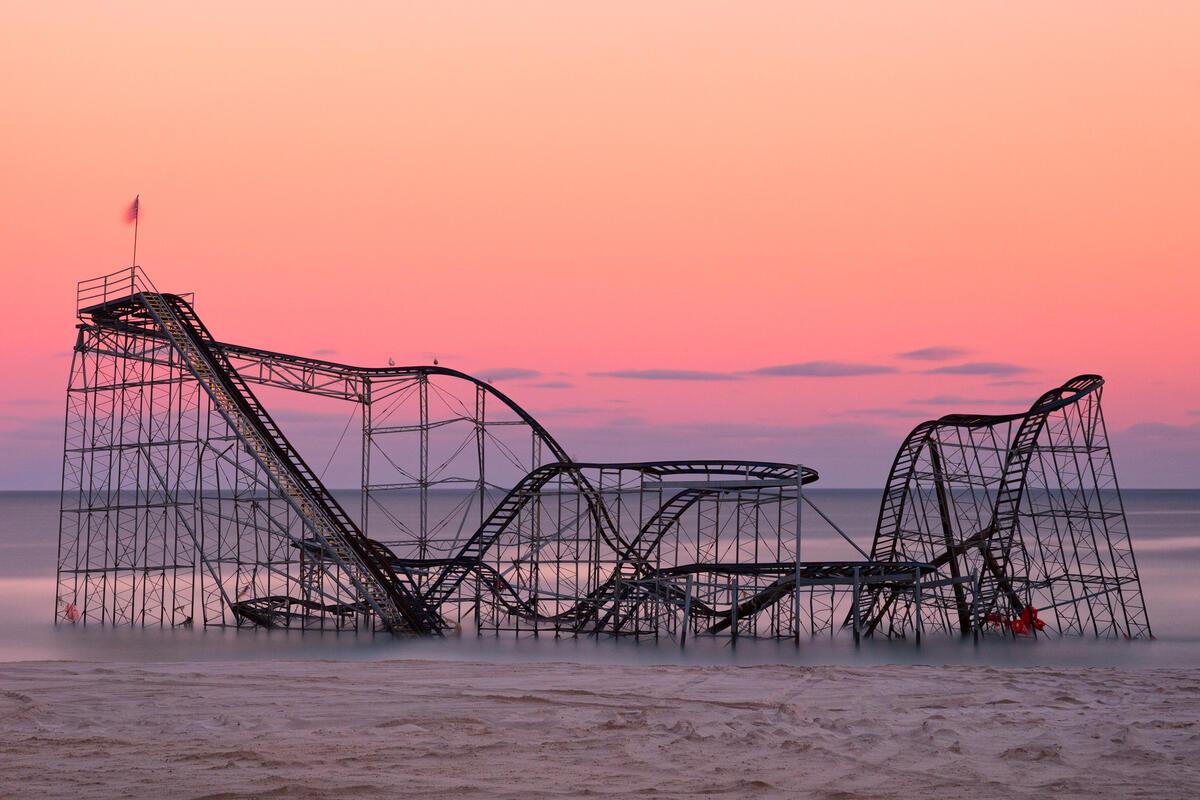 Sandy wreaked havoc on communities like Seaside Heights, New Jersey. (Getty)
Hurricane Sandy's impacts
Sandy's epic storm surge topped 14 feet in lower Manhattan. It killed 44 people and caused $19 billion in damages in New York City alone as homes, hospitals, sewer systems, subway tunnels and power stations flooded.
The shock of Sandy's destruction set into motion scores of flood resilience projects in New York and New Jersey from multibillion dollar efforts to fend off water with concrete and steel, to lifting or buying out damaged homes in high-risk areas. There are projects to build what experts call green infrastructure — like parks and street trees — to hold storm water and there's even a giant breakwater that will incorporate living oysters.
But 10 years after Sandy, progress has been scattershot. 
"We're nowhere near where we need to be," says Kate Boicourt, a director of coastal resilience at Environmental Defense Fund. "Some communities are better protected and some are not. And we're still building in risky areas."
Climate change and a wetter future
Climate change is fueling more frequent and intense hurricanes, as well as rising sea levels and more intense downpours, all of which exacerbate flooding. Even today, millions of people in New York and New Jersey are affected each year by flood-related road closures, train delays and property damage.
By 2050, sea levels in New York and New Jersey, home to 29 million people, are projected to rise by up to 2.5 feet. A quarter of New York City's land — home to one out of every ten city residents — has a one-in-four chance of flooding over the next 30 years.
Since Sandy, New York and New Jersey have been making big changes to protect against future flood damage. Transit systems and power stations have been fortified. New building codes were instituted. The city of Hoboken, New Jersey, is building a series of parks designed to hold hundreds of thousands of gallons of storm water. In lower Manhattan, construction recently began on flood walls and elevated waterfront parks that can be sealed off with gates to protect the housing behind them. 
Unequal protection
But not everyone is safer. One ambitious 2019 proposal from the U.S. Army Corps of Engineers floated several ideas to manage storm surge, including an environmentally risky, $119 billion, 6-mile-long gated barrier across the mouth of New York Harbor.
Another concept, involving several smaller gates, would have left about half a million people in southern Brooklyn unprotected.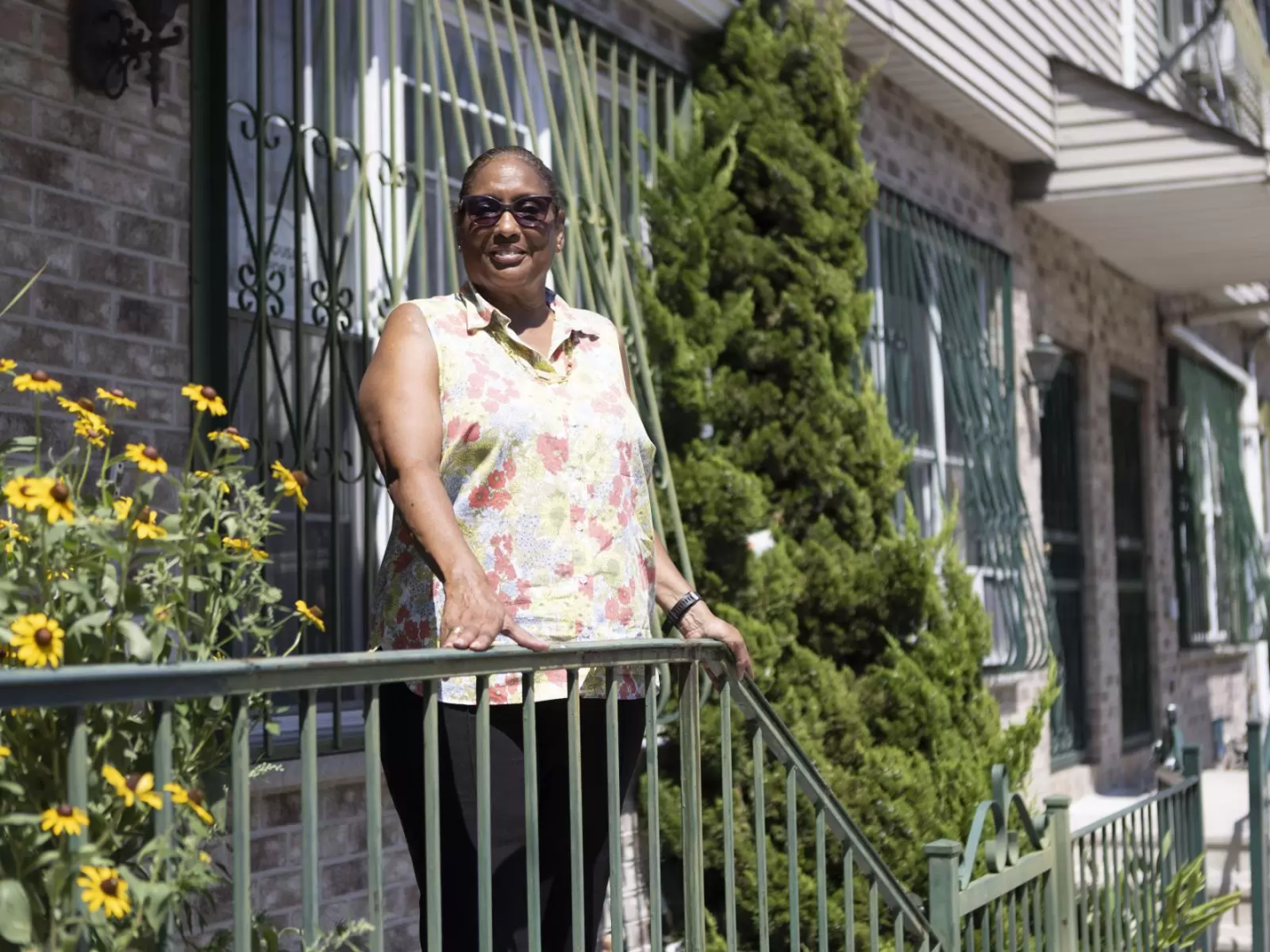 Pamela Pettyjohn, founder of the Coney Island Beautification Project, at home. (Mohammad Shahhosseini)
Pamela Pettyjohn lives in one such community in Coney Island. During Sandy, Pettyjohn watched her living room furniture float toward the ceiling, as floodwaters laden with chemicals and raw sewage burst through her foundation. A 6-foot-deep sinkhole opened up on her street, extending the length of her block.
"It looked like there was an earthquake," she says.
Pettyjohn had flood insurance, but the payout covered less than half the cost of her repairs. Her aid from the Federal Emergency Management Agency totaled only $128.
To rebuild, the retiree had to use all her savings and took on debt. Yet today, new high rises are still springing up in Coney Island, and Pettyjohn's home is no more protected than it was 10 years ago. And she's still in debt.
"I worked all my life," says Pettyjohn. "But one more storm and I'm homeless."
Communities fight back
She is not sitting idly by. After the storm, Pettyjohn launched the Coney Island Beautification Project, with a simple goal: to plant flowers to cheer a neighborhood in despair. But she quickly realized her community needed more than a mood boost — they needed to plan for the future. The group's mission evolved to include local environmental advocacy, including flood resilience.
"We're on the frontline of storms," says Pettyjohn. "If we're protected, then communities behind us are protected too."
Along with Environmental Defense Fund and others, CIBP has been urging the Army Corps to engage more with communities who understand local flooding issues, and to consider more equitable and natural solutions such as oyster reefs or wetlands, which provide environmental benefits as well as flood protection.
Those efforts may have had some effect. In September, the Corps tentatively selected a concept that includes smaller sea gates and some as-yet unspecified measures on the shoreline, including in Coney Island.
Whether those measures will be walls, wetlands or something else, remains unclear. And the Corps only considers storm surge, not other types of flooding, such as that caused by rainfall from Hurricane Ida, which drowned 11 people in basement apartments in Queens in 2021. EDF, CIBP and others are continuing discussions with the Corps to address these issues.
Buyouts: an underused solution
After Sandy, New Jersey and New York used federal disaster funds to pursue an underused solution — voluntary buyouts. Each state purchased about 700 damaged properties in high-risk areas and limited future development on the sites.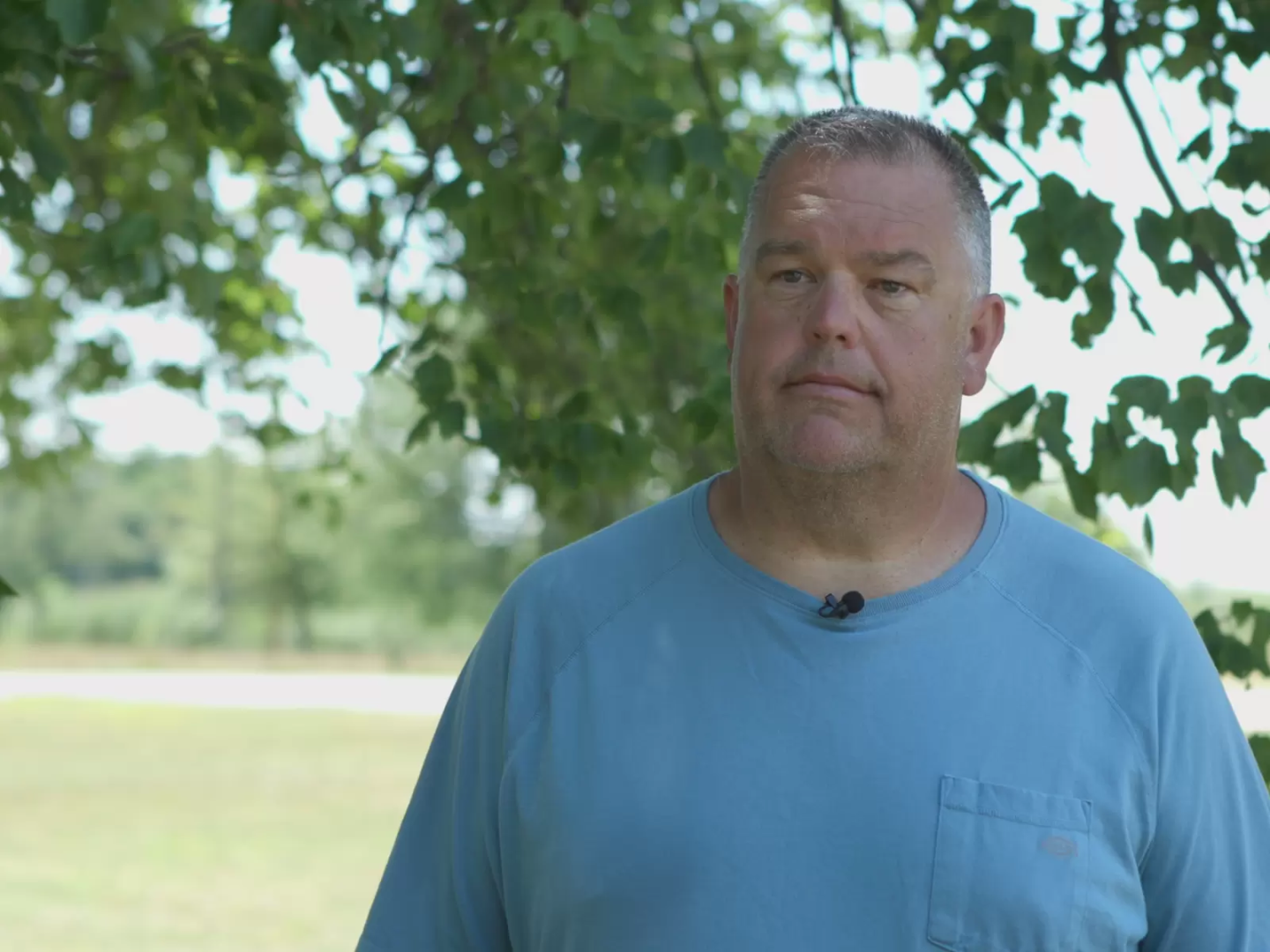 Frank Moszczynski lost his Staten Island home to Sandy's storm surge. (Mohammad Shahhosseini)
Ocean Breeze, Staten Island, where the violence of Sandy's storm surge knocked down entire homes, was one of those areas. 
Frank Moszczynski, a carpenter and head of his neighborhood civic association, waded through the flooded streets after the storm, helping search for survivors.
"The devastation was terrible," he says. "It was as bad as bad could be."
After 40 years in his community, Moszczynski took the buyout and moved to higher ground. Geese now waddle through the empty streets of his old neighborhood. Herons flap lazily across the marshes.
"This place was like Mayberry," he says. "We loved living here. But I didn't ever want to put my family in harm's way again."
The majority of New York State's buyouts took place in Staten Island, where studies of flood risk were already on record, and where several communities had access to information and resources to mobilize quickly and apply.
In Coney Island, Pettyjohn heard she could sell her property for redevelopment, but the details were thorny. And, she says, "They wanted us to move, but where would we go?"
Pressure on affordable housing
Affordable housing is often located in flood-prone areas, due in part to a history of racist housing policies. Low-income communities and communities of color already tend to be hardest hit by disasters and fare worse in recovery, as many lack insurance and savings. Yet disaster aid tends to flow to whiter and wealthier communities.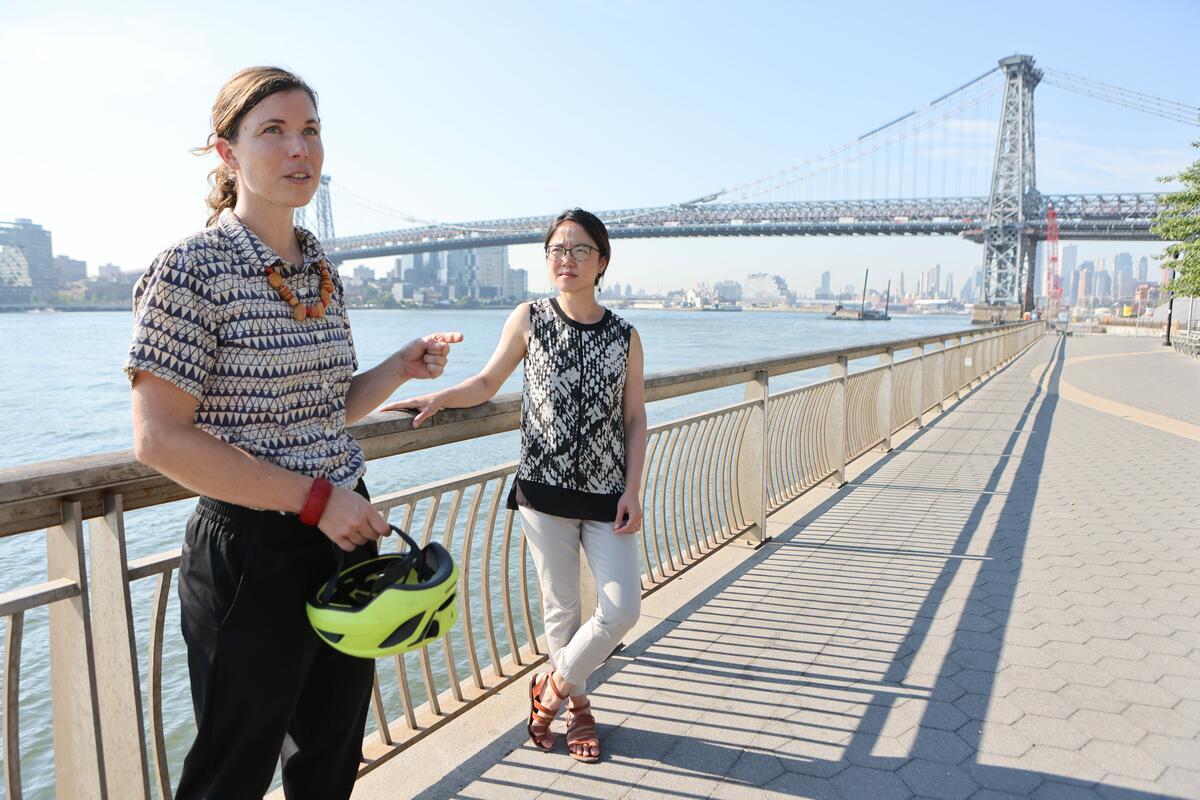 EDF's Kate Boicourt, left, with Cornell University's Linda Shi. (Mohammad Shahhosseini)
As increased flooding puts pressure on the housing market, these disparities could worsen, says Linda Shi of Cornell University, who studies climate impacts and adaptation in cities.
 "Those who can't afford more protected areas are either going to be excluded or actively displaced from safe housing," she says.
Shi is working with EDF and community partners to research how affordable housing in New York City is impacted by flood risk, and how best to protect residents. 
"The housing crisis and the climate crisis are intertwined," says EDF's Boicourt. "Cities can't solve one without dealing with the other."
Faster disaster relief
EDF economist Carolyn Kousky is examining how to make disaster recovery more equitable. "Many forms of financial assistance take months to make their way to people, and that imposes hardships on the most vulnerable," she says.
Kousky is working with the Center for NYC Neighborhoods and the NYC Mayor's Office of Climate and Environmental Justice on a pilot insurance program to get funds to families in need faster. Parametric insurance, widely used in the developing world, delivers payouts at a predetermined trigger point, such as the height of floodwaters in a particular location. This eliminates the need for paperwork and a visit from an adjuster, so administrative costs are lower and benefits can be delivered quickly.
We are the economic engine of the nation. If we can't make it here, can we make it anywhere?

Kate Boicourt

Director of Coastal Resilience for New York and New Jersey, EDF
There's also a bipartisan effort in Congress, supported by EDF, to reform the byzantine federal disaster relief process, which can take years to deliver aid to communities — many of which lack the resources to apply and wait for funding.
If passed, the legislation would vastly simplify the application process, making it easier for all communities to access funds.
A master plan for coastal resilience
Ultimately, preparing for hurricanes and flooding will require a comprehensive plan that considers future climate impacts in all government decisions about what to build, how and where. EDF helped Louisiana develop the nation's first coastal resilience master plan after Hurricane Katrina, and has successfully advocated for similar plans in Virginia and North Carolina.
New Jersey released its first coastal resilience plan in 2021. New York City will also create one, thanks to the advocacy of the Waterfront Alliance's Rise to Resilience coalition, of which EDF, CIBP and others are a part. The coalition is now calling for a state-wise plan for New York.
EDF is also educating voters in New York about a proposal for a $4.2 billion environmental bond that will appear on ballots in November. The bond would dedicate more than $1 billion to flood resilience, including buyouts, retrofits, wetland restoration and coastal rehabilitation. (Update: voters overwhelmingly approved the measure in November 2022.)
No place in the world has hit upon the perfect solution to adapt to a future of more water; resilience will need to take many forms. But whatever solutions are tested in New York and New Jersey will be closely watched by the rest of the world.
"This region is home to almost one-tenth the U.S. population,'  says Boicourt. "We are the economic engine of the nation. If we can't make it here, can we make it anywhere?"
In Coney Island, Pettyjohn looks to the future with hope. "I would love for my neighborhood to become the classroom for other coastal communities to see, this is how you build, how you protect," she says. "This is how you live with water."
Hope for a warming planet
Get the latest Vital Signs stories delivered to your inbox