Nearly half the world's largest companies plan to slash their climate footprint. Can they turn promises into reality?
The multinational energy company Orsted is a model of climate progress. Once heavily involved in fossil fuels — it got its start selling North Sea oil and gas — it is now largely a green energy company, building and maintaining offshore and onshore wind farms, solar installations and energy storage facilities. 
In addition to being a leading global supplier of renewable energy, the company is also addressing climate pollution from its own operations and pushing its suppliers to reduce their emissions too. 
Like Orsted, 900 of the world's 2,000 largest companies have set goals to zero out their climate pollution. But far fewer have followed those promises with action.
"The vast majority of large companies are setting goals without concrete plans to turn pledges into progress at the speed and scale needed to stabilize the climate," says Elizabeth Sturcken, a managing director at Environmental Defense Fund's business engagement program.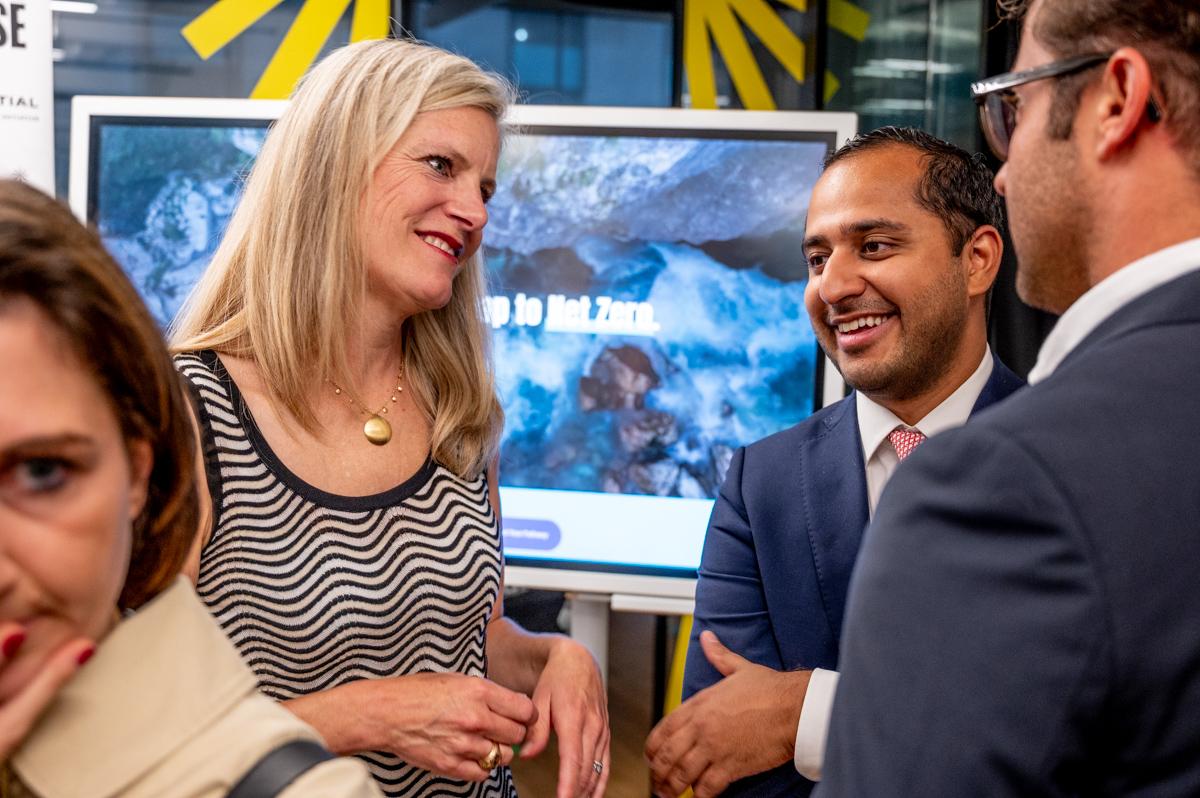 Environmental Defense Fund's Elizabeth Sturcken spoke at Climate Week NYC about corporate climate commitments and following through on goals. (gregkessler.com)
Even as scientists and global leaders increasingly highlight the perils of climate change — "Humanity has opened the gates of hell," United Nations Secretary-General António Guterres told a U.N. climate ambition summit in New York this month — many of the largest corporations have been slow to act. 
All this is true despite the major role companies play in destabilizing the climate. More than half of the world's annual greenhouse gas emissions are attributable to eight global industries — food, construction, fashion, consumer goods, electronics, automotive, professional services and freight — according to a 2021 World Economic Forum report. In the U.S., businesses are responsible for almost two-thirds of all electricity use, a major driver of climate pollution.
"Many companies and many of their employees want to address climate change," Sturcken says. "They genuinely want to lead but they don't know how." 
She cites a lack of in-house expertise, changing regulations and confusion about what guidance to follow as some of the obstacles to significant corporate action on climate. "Many are struggling to know where to start," she adds.
Speeding up corporate climate action
This month, EDF launched the Net Zero Action Accelerator, an online tool that gives companies the information they need to design and implement the kinds of supply-chain and operational changes that can help stabilize the climate. 
The free tool allows companies to create customized plans using resources from EDF, Deloitte, the National Retail Oxford University, and others. And it enables companies to address their climate footprint taking into account their sector and an individual user's role.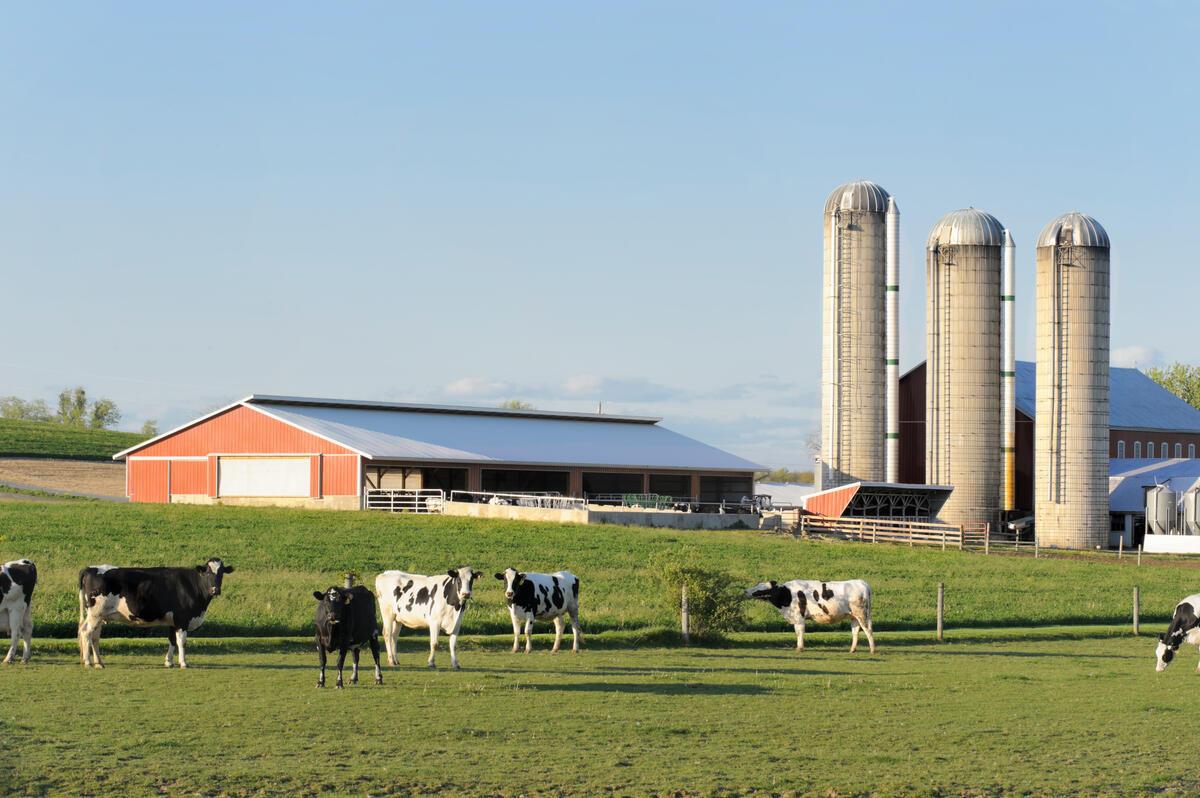 The new tool can help dairy companies figure out how to cut climate-warming methane emissions from their bovine suppliers. Methane has more than 80 times the warming power of carbon dioxide in the first 20 years after it is released. (Getty)
For example, the tool can help a business-operations executive at a global dairy company understand how to generate internal engagement on climate issues, calculate her company's climate footprint, and devise a plan to help suppliers cut planet-warming methane pollution from their dairy herds. 
The tool can also teach her how to transition a delivery fleet to electric vehicles and navigate government and voluntary reporting requirements on greenhouse gas emissions and reductions. 
"The Accelerator prioritizes the most high-impact actions," says Sturcken. 
Changes corporations make can create positive ripple effects across society, she adds. "When you have companies telling utilities they'll purchase only renewable energy, that can change not only what utilities offer those companies but also what powers the entire electric grid."
"This Accelerator is going to help us in our engagement of suppliers," says Kathleen McLaughlin, executive vice president and chief sustainability officer at Walmart. "Tackling climate change is a societal undertaking and we're going to need all of us to be working toward this through innovations like this one."
The tool includes analyses of regulatory developments and policy incentives from the U.S.'s Inflation Reduction Act, to help companies take advantage of federal incentives to reduce emissions. 
The vast majority of large companies are setting goals without concrete plans to turn pledges into progress at the speed and scale needed to stabilize the climate.

Elizabeth Sturcken

Managing Director, Environmental Defense Fund
The tool has climate and environmental justice considerations built into most of its recommendations and a section dedicated to specific efforts companies can make to include climate justice in their work. 
For example it can tell users how to make sure people from a variety of backgrounds participate in corporate decision-making. It can also show them how to engage with the communities who grow and mine the products in their supply chains and how to support public policies that protect those most at risk from the effects of climate change.
Climate action makes good business sense
According to a 2022 report from the Deloitte Center for Sustainable Progress, a failure to act on the climate crisis could cost the world economy $178 trillion by 2070. Immediate action, by contrast, could supercharge the global economy by $43 trillion over that time. 
Moreover, more than half the world's GDP — $44 trillion — is at immediate risk due to nature loss, the World Economic Forum finds. Slowing this loss, and making investments that benefit nature can create new business opportunities to the scale of $10 trillion annually and create an estimated 395 million jobs by 2030.   
The actions that companies take in this decade will have a bearing on the world's ability to prevent the most catastrophic and irreversible impacts of climate change, Sturcken says. "We can help move corporations from pledges to progress." 
Hope for a warming planet
Get the latest Vital Signs stories delivered to your inbox