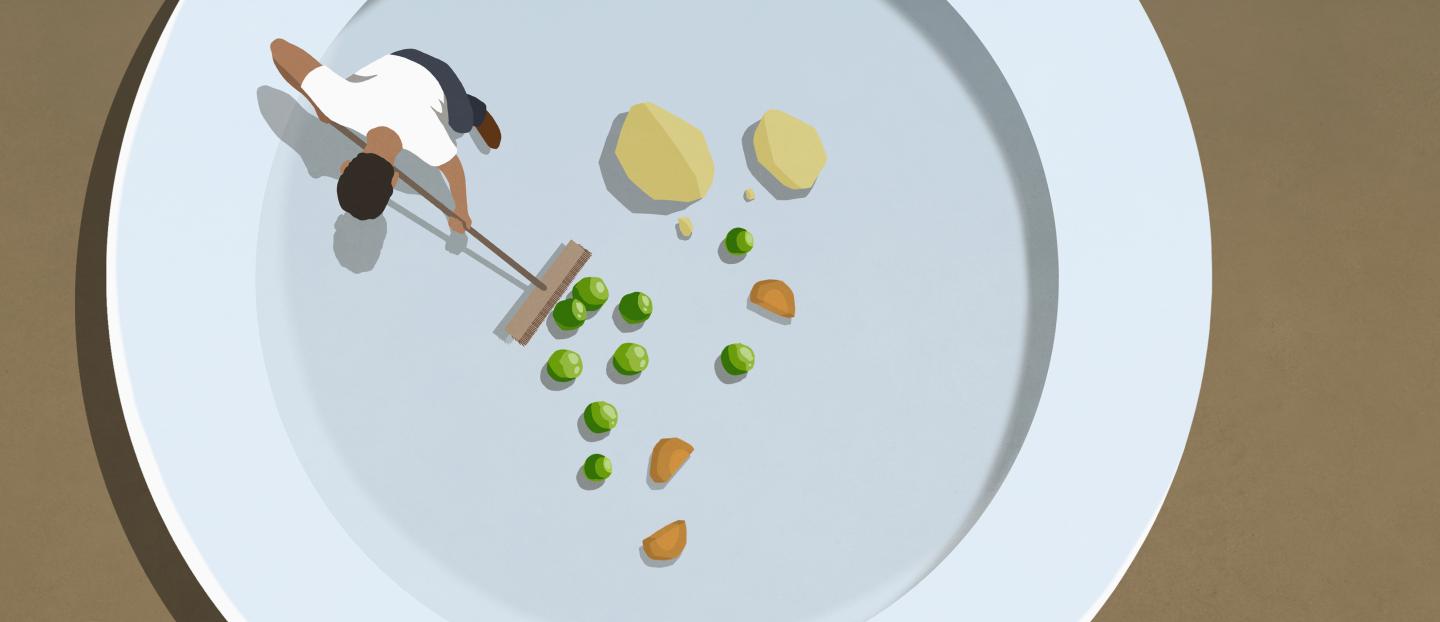 My month of leftovers, (not) composting and not wasting food
In our new, semi-regular column, Down to Earth, we challenge one writer to spend a month greening one part of their life. This week, Tampa, Florida-based writer and filmmaker Lee Alisha Williams takes on food waste, with the help of her pet turtle also named Lee.
Lee Alisha Williams is a journalist and filmmaker based in Tampa, Florida. (Brandon Boudreaux)
I had too much food in my fridge and it was going bad — lettuce, spinach, strawberries, blueberries. The lettuce and spinach, especially, were not my friends.
The vibrant greens turned gooey and discolored. 
Into the trash they went. And then I repeated the cycle again. And again.
When I Googled how to properly store spinach and lettuce, I discovered a problem I didn't realize was so big: food waste. 
Turns out that America alone wastes 30-40% of our food, according to the U.S. Department of Agriculture. That's about 119 billion pounds of food, or about 130 billion meals. 
But here's the kicker: That food doesn't go to the 34 million food-insecure individuals in the U.S. It goes to landfills, where it rots and produces harmful greenhouse gases like methane. 
Wanted: a plan of action for food waste
Food insecurity, greenhouse gases, my wasted cash. This wasn't just a big problem out there. It was my problem, too. 
It was time to figure something out.
The articles I read online were helpful but too much information all at once. I decided just to wing it and go small, by limiting the times I used the grocery delivery service Instacart. Adding items to my cart was just too easy; I only needed to click a button on my phone.
I shopped in person instead, saving the delivery fee and buying what was on my grocery list, not everything that caught my eye.
Turtle to the rescue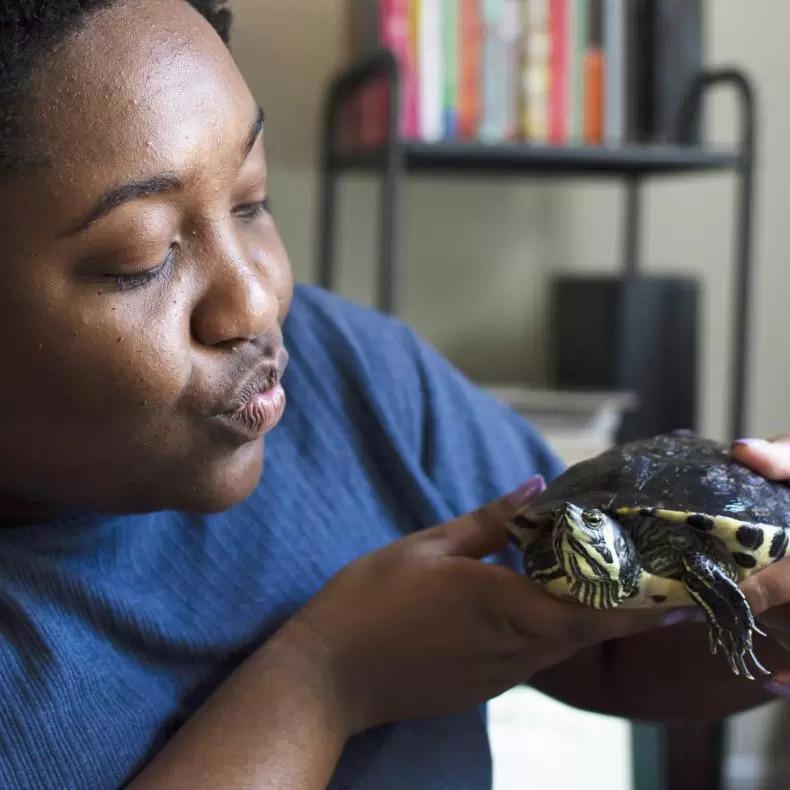 Lee the turtle is Lee the person's partner in reducing food waste. (Brandon Boudreaux)
Then I had an excellent realization. 
I could have a partner in this project: my turtle, Lee. (No weird naming thing here. My human partner, Brandon, got the little guy when Brandon was 10 and named him then.)
Lee has a love of fresh produce. 
Once I started thinking about food waste, before I tossed any past-their-prime greens or berries, I asked myself: "Could Lee eat this?" Usually, he could. 
But help from a turtle can only get a person so far.
Expert advice on food waste
One good thing about being a journalist is that you can call up experts and they'll share their knowledge with you for free.
So I got in touch with Isaias Hernandez, aka the Queer Brown Vegan, an environmental advocate and educator with a bachelor's degree in environmental science, though he has other relevant experience as well.
"My relationship to food waste draws upon my lived experiences growing up in poverty," Hernandez told me. As a child, he lived in Section 8 housing and depended on public assistance programs like food stamps, food banks, and going to local churches to receive food.
He's known for a long time how to use what he and his family had on hand.
Hernandez said our food systems are not designed to deal with the environmental impacts of food waste. The fact that some big grocery stores find it easier to trash good food than give it away is a sign the system needs fixing. 
As a food waste newbie, I knew I couldn't fix the system (yet). But Hernandez did have some practical tips that I could use at home.
His first suggestion was that I take up composting. "You get an old upcycled furniture piece, like a wardrobe or something, and you fill it up with dirt and worms." It wouldn't stink or take up a lot of room in my small apartment, he explained. 
For someone with an aversion to slimy lettuce and a lack of upcycled armoires at my disposal, that felt like a challenge for another day.  
But his second suggestion made a lot of sense. Individual foods can have lots of uses, not just one, he told me. I could think of food as "multidimensional," he said. 
"Let's say that you have an orange and you want to make orange juice. But then you have the skin leftover. Why not use the skin as zest?" 
Zesting was not previously in my lexicon. But just look at these orange zest uses: Exfoliating scrub, healing salve, orange cake with icing. Consider zest noted.
Food waste is responsible for 8% of global greenhouse gases. (Brandon Boudreaux)
Shop your fridge
Then I spoke to another food waste expert, Anne-Marie Bonneau, the Zero Waste Chef, a blogger and cookbook author. As it happens, she wrote about orange zest recently, too. Is zesting taking over?
Bonneau suggested "shopping" in my fridge and pantry before going to the grocery store.
"Look at what you have on hand and let that dictate what you're going to cook next," she explained.
Next shopping day, I checked my stores first. 
Two days ago, Brandon and I had eaten my version of bangers and mash, which consisted of sausages marinated in Korean BBQ sauce, garlic mashed potatoes and broccoli.
We finished the sausages first because they were incredible.
But we had mashed potatoes and broccoli left over. Instead of tossing these foods right away or letting them sit in the back of the fridge until they were no good and then tossing them, I defrosted a pack of chicken breasts to go along with them. And once the mashed potatoes and broccoli were gone, I made rice to go with the chicken.
I patted myself on the back for viewing the mashed potatoes and broccoli as multidimensional. (Shoutout to Queer Brown Vegan!) 
Another tip Bonneau shared: "Store food in jars or in glass." You are more likely to reach for the food in glass containers because you can see it. This tip extends to when you are eating in restaurants, too. "Take a container with you for the leftovers. It's such a simple thing," she said.
Be the change you want to see in the world
After a while, I noticed that the things I was doing started to add up — my impulse control with Instacart, choosing to plan meals and buy more intentionally, shopping in my fridge. Even the orange zest. 
And Bonneau was right. These food waste solutions were so simple and easy to integrate into my routine that I'm still using them. Not only that, I'm saving money on my grocery bill every week. 
Contributing to the good and not the bad is making me happier. And little Lee, now the recipient of dinged-up produce I might have previously thrown in the trash? Well, he might be the happiest of all.
Be part of the solution
Get expert info on healthy, sustainable, green living choices, delivered to your inbox