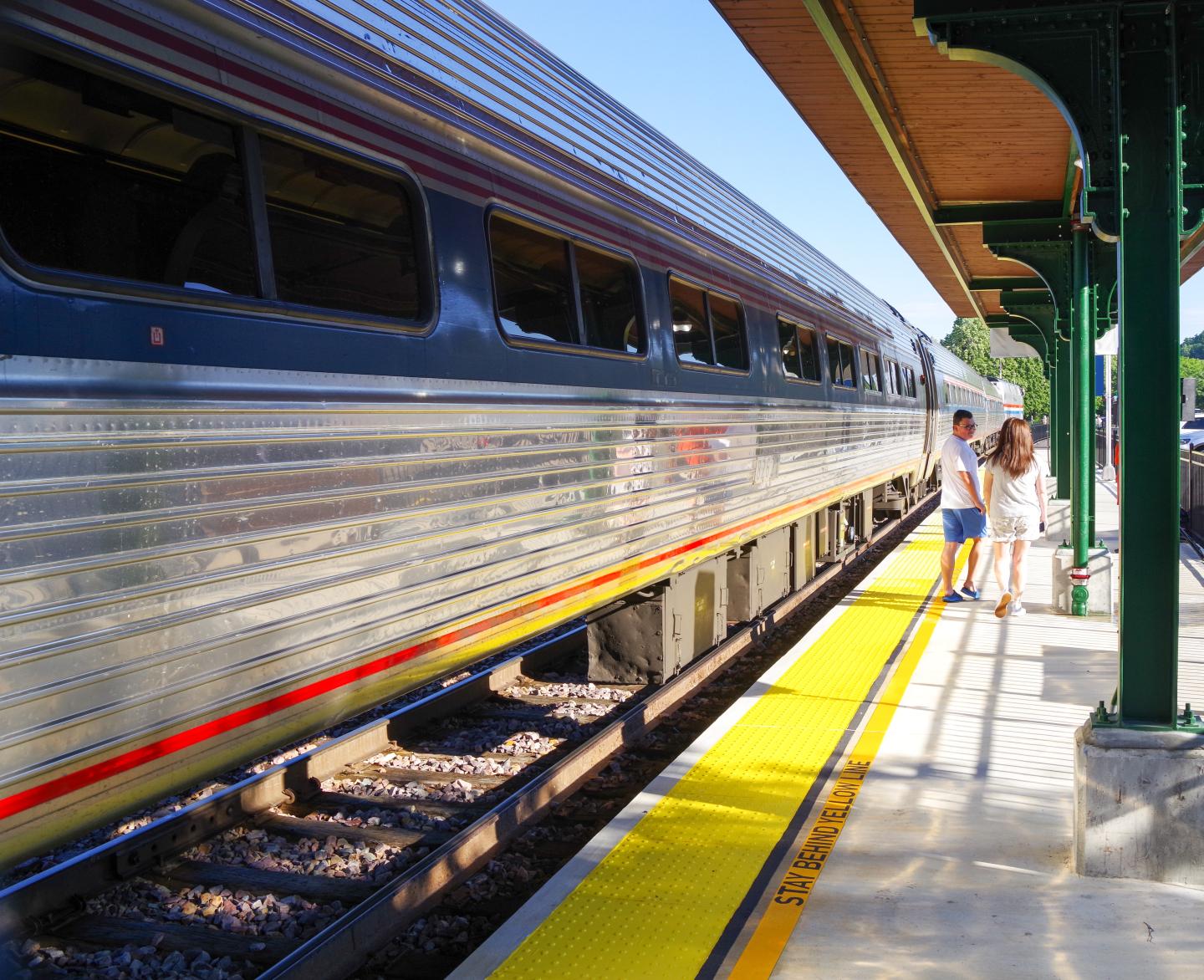 5 greener summer vacation ideas
Looking to plan a vacation with the planet in mind?
Here are five budget-friendly vacation ideas to ensure your summer sabbatical is about kicking back and relaxing, not stressing about your impact on Mother Earth. 
Read on and enjoy!
1. Stay out of the skies
Unless you're planning to take a rocket ship to the moon (greenhouse gases galore!) or trample a nest full of sea turtle eggs, it's likely that the biggest environmental impact of your vacation will come in the form of air travel. In fact, depending on where you're going, a flight — especially one with a stopover — can emit five and a half times as much climate pollution as an equivalent train trip and almost seven times as much as a trip by bus, according to a 2022 U.S. Department of Transportation study. 
If you must take a flight, try to fly direct. (Filters on the travel website Kayak highlight lower-carbon air trips.)
Need an alternative? 
Why not hop onto Amtrak, the U.S.' public railroad? It offers dozens of roundtrip vacation packages to national parks and other great locations that will help you beat the heat. (Or, at least, try to.)  
You can visit the Great Smoky Mountains from Atlanta or Glacier National Park from Seattle. The same goes for Niagara Falls from New York City or Chicago. If you're traveling overnight, you can even book a sleeping berth, just like in those old-time movies. Packages include hotel accommodations and offer a host of activities once you've arrived at your destination. 
All aboard!
2. Staycation
Save time you would have spent packing and unpacking. Forget getting to the airport and the threat of hotel bed bugs. Use your sofa as your home base, take in the local sights, and do all the things you've been meaning to but haven't yet had the time for. (And by this we don't mean decluttering your digs. Though, that's OK, too.)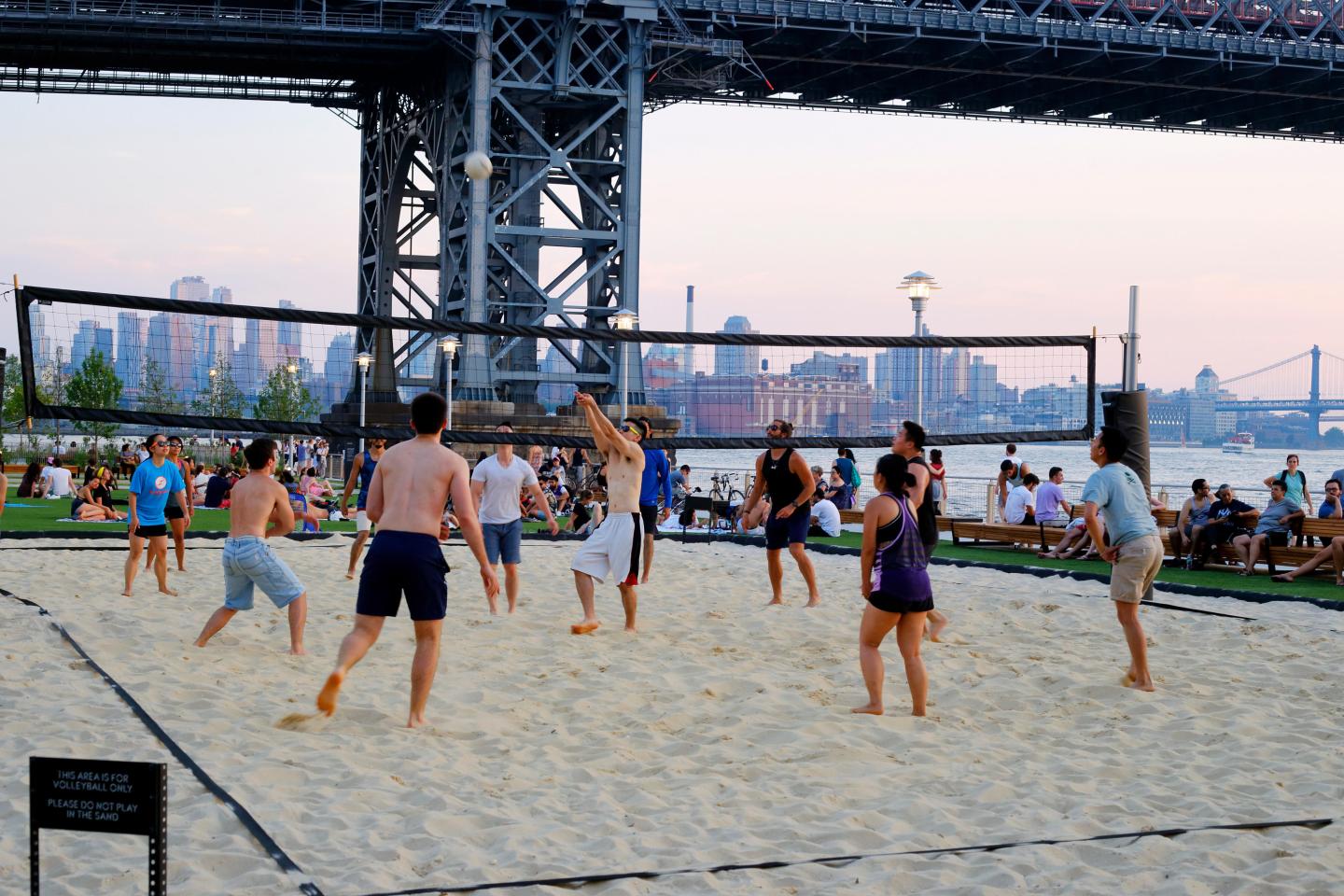 Find new, fun things in your own neighborhood. (Alamy)
Maybe download a birdwatching app and check out the local fauna. Visit those cheap-eats restaurants TikTokers rave about. Check out a new neighborhood or take in an architecture tour. Up for solving a mystery? Try geocaching, a kind of high-tech scavenger hunt open to anyone with a cellphone.
Vacations don't have to be synonymous with travel. Sometimes the couch and shoe leather simply rule.
3. Pitch in
The Earth needs friends like you!
With your time off the clock you could extend a hand to our majestic but besieged planet by volunteering with organizations and agencies that work to shore it up.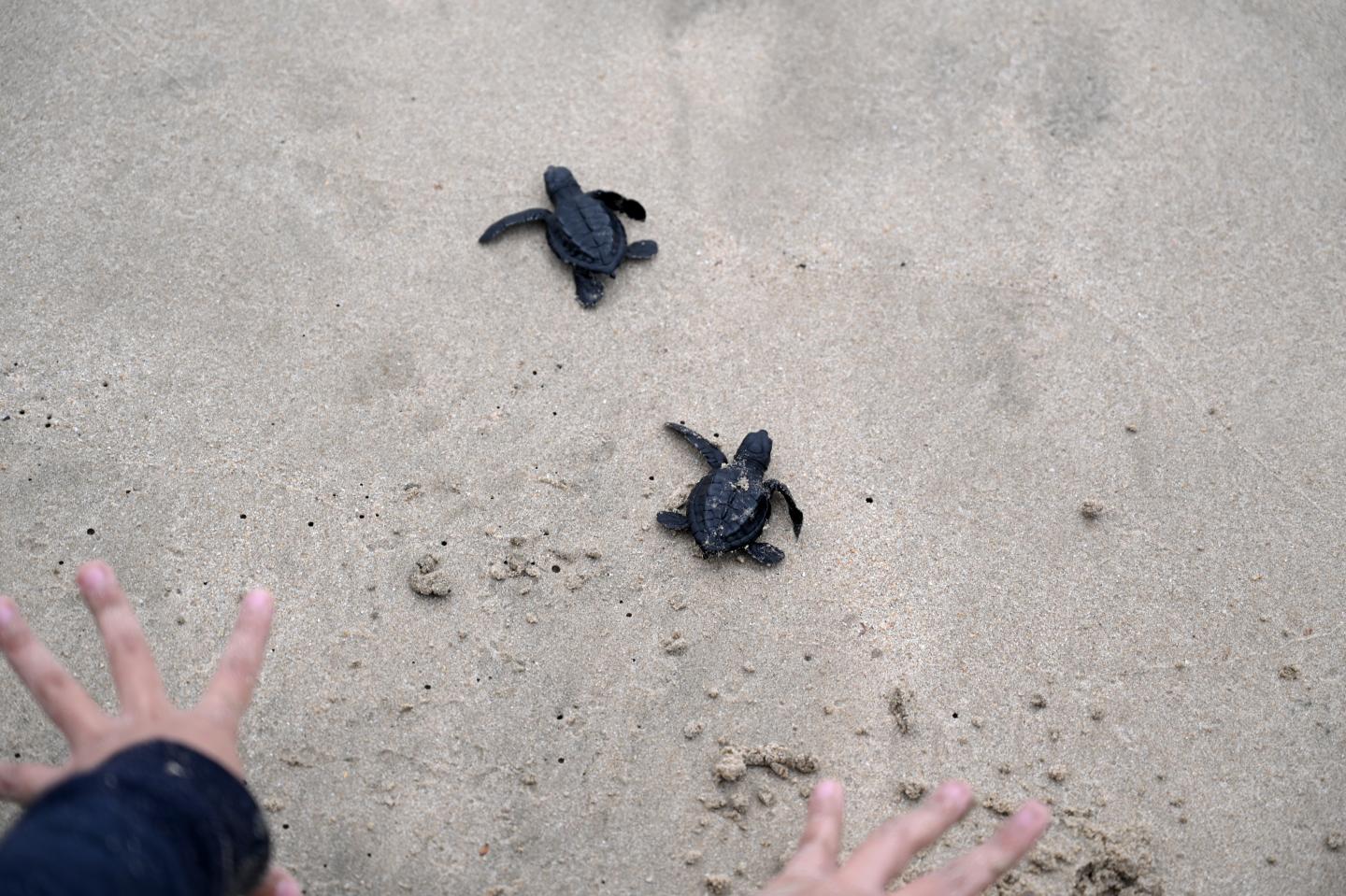 Saving sea turtles as a summer vacation! (Getty)
Nonprofit groups like See Turtles and Earthwatch send interested lay people to work with scientists on climate change and conservation science projects, while also offering some fun, leisure activities.
 Worldwide Opportunities on Organic Farms, USA (aka WWOOF USA) connects would-be hoe-ers and plowers with organic farmers around the U.S.
The U.S. National Parks Service offers short- and long-term volunteer opportunities. 
And many state and local departments of environmental protection are looking for helpers. They can sometimes offer housing, though generally no planned adventures. 
Says Colorado Parks and Wildlife public information officer Bridget O'Rourke: "Aside from our staff, our volunteers are the heart and soul of our program." 
That could be you.
4. Choose green accommodations 
No single certification program quickly characterizes the environmental bona fides of any given hotel, motel or Airbnb. But there are ways to find green lodgings if you put your mind and your internet search skills to work.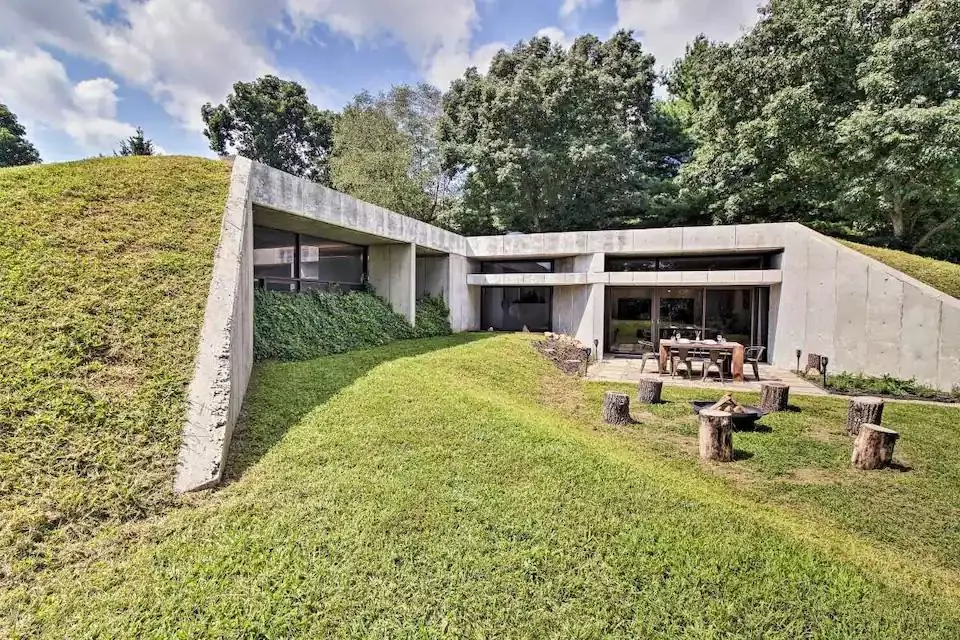 It's like an industrial Hobbit hole. (Earth Homes)
Airbnb, for instance, offers a category called "Earth Homes" which includes some homes that run on renewable energy, as well as those made of environmentally-friendly rammed earth. The website also lists electric vehicle chargers. Ecobnb offers sustainable options, most of them in Europe.
Certified B Corporation hotels and resorts meet high environmental performance standards.
Around the world, you can look out for lodgings with LEED certification from the U.S. Green Building Council. (LEED stands for Leadership in Energy and Environmental Design. And, yes, the USGBC certifies buildings worldwide.)  
Finally, choose to stay in an area that's walkable and located near public transportation. Those things will make you less reliant on a car and the pollution that comes with it. 
5. Two wheeler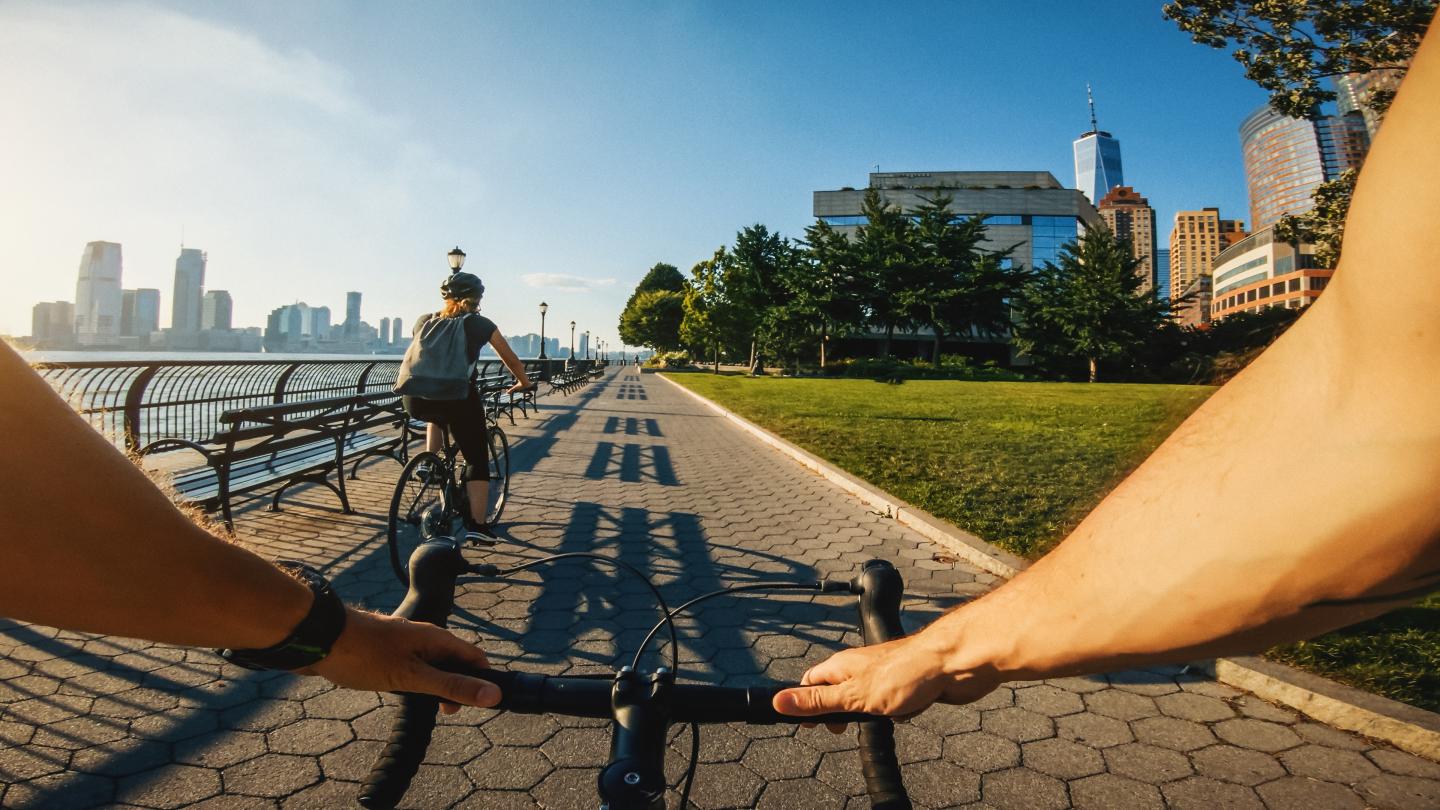 Biking can be a great way to see your surroundings. (Getty)
Perhaps President John F. Kennedy put it best: "Nothing compares to the simple pleasure of a bike ride." 
You can keep that simple, low-carbon pleasure going for days, by signing up for a bike tour. Tours often begin near major cities, which can mean less travel to your entry point, and thus, less climate pollution. 
On a tour, you can roam through scenic landscapes, get your heart and your legs pumping, and not have to worry about where to stay, what to eat or schlepping your stuff around. (The tour operators do all that.) Many operators even provide bikes for those who don't have their own. 
Traveling with kids? There are bike tours designed with the young (or younger) ones in mind.  
And — who knows? — a bike tour might serve as a gateway to more biking (and less pollution) in your life overall — kind of a virtuous cycle where one good turn (of the wheels) leads to another.
Be part of the solution
Get expert info on healthy, sustainable, green living choices, delivered to your inbox