Historic Cuban voyage searches for clues to coral reef survival
The two-month expedition is the largest scientific survey of the island's waters to date. 
In what oceanographers are calling a "dream come true" for Cuban marine science, a team of experts has just completed a first-of-its-kind circumnavigation of the Caribbean's largest island to study coral and other high-priority marine life.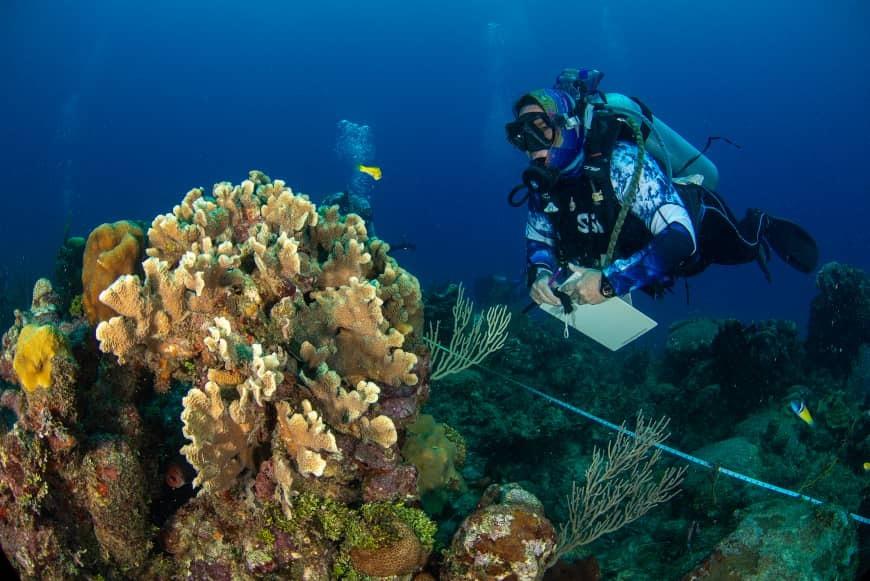 Marine biologist and expedition co-leader Patricia González assesses coral health. Rising temperatures are making it harder for coral and other marine animals to thrive and survive. (Noel López Fernández/EDF Cuba)
The two-month "Bojeo a Cuba" expedition, completed Sept. 8, covered 1,800 nautical miles. The trip aimed to gauge the health of the country's exceptional coral reefs along with the fish — including sharks — and other marine life that depend on the reefs.  
Data is now being processed, but the team of Cuban scientists hopes that the expedition will advance scientists' understanding of the reefs' resilience to climate change — information that could potentially benefit other nearby coral reef systems. 
The data, collected during the hottest summer on record, could also provide guidance to researchers across the globe working to protect reefs that are stressed by warming waters, pollution, overfishing and other threats.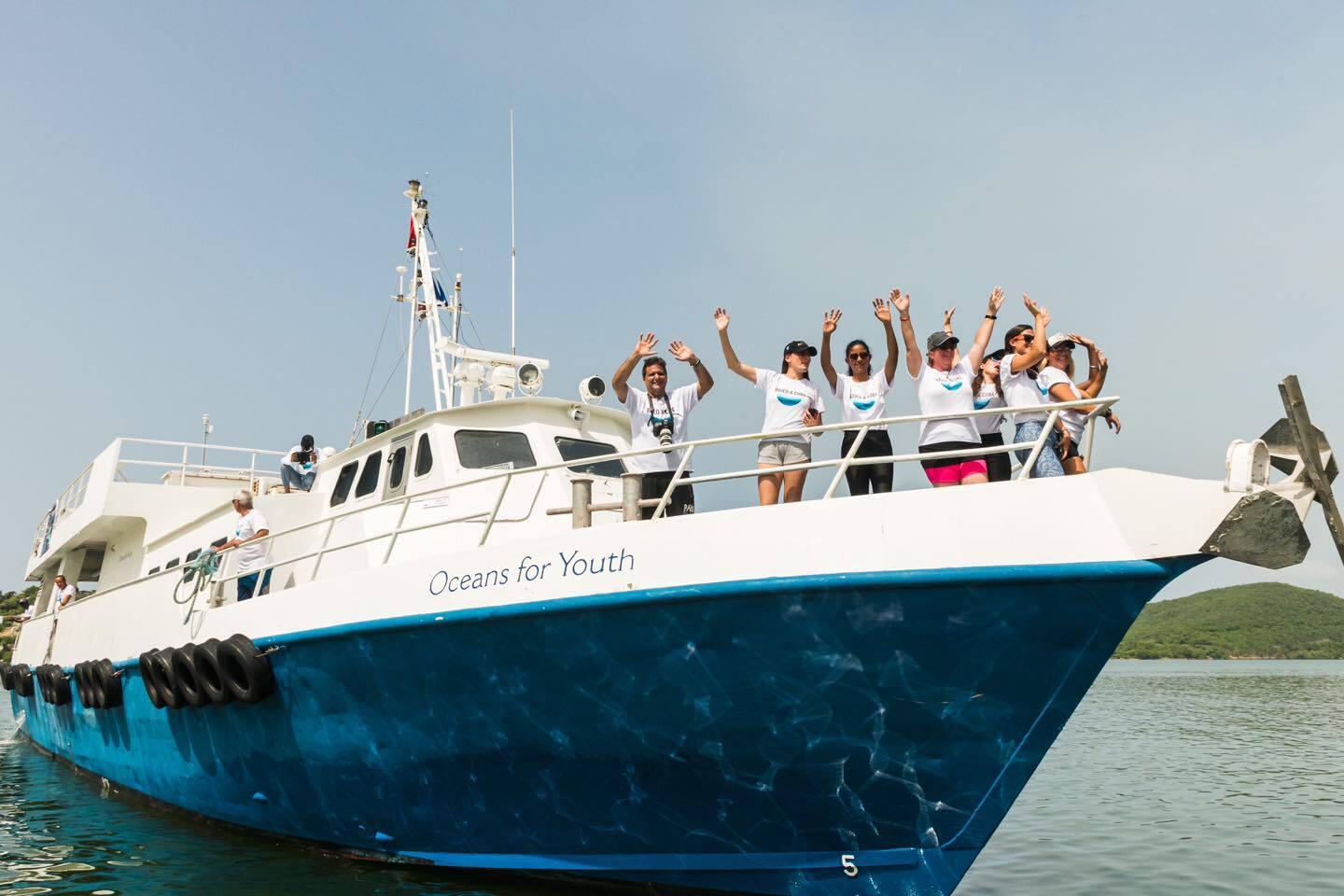 Researchers on the Bojeo a Cuba expedition wave from the bow of the M/V Oceans for Youth research boat. (Noel López Fernández/EDF Cuba)
"This expedition is the fruit of years of intense work and marks the beginning of a new era for marine science and conservation in Cuba," says Fabián Pina, the Cuban marine biologist who initiated the project. "For the first time, we're getting a picture of the state of corals throughout the island, along with observations of sharks, fish, water quality and microbiology, using consistent sampling protocols and observers in a short timeframe." 
Cuba's resilient reefs
Coral reefs, which are hotspots of biodiversity and critical to food security and livelihoods, are threatened by the impacts of climate change. 
Increasing levels of carbon dioxide are making the ocean more acidic. Higher acidity affects the balance of minerals in the water, making it harder for coral and other marine animals to build their protective skeletons or shells.
Half a billion people and about 25% of ocean fish depend on healthy coral reefs, but more than half of the world's reefs are at risk due to heat stress.
Cuba is a bright spot for coral. Scientists say the island's waters are home to four of the world's most climate-resilient reefs, providing ideal conditions in which to study and find ways to preserve coral in the Caribbean and worldwide. 
Scientists suspect that the secrets to the Cuban reefs' resilience may include well-protected marine conservation areas where apex predators thrive, a lack of runoff from farms and urban areas and favorable coral genetics.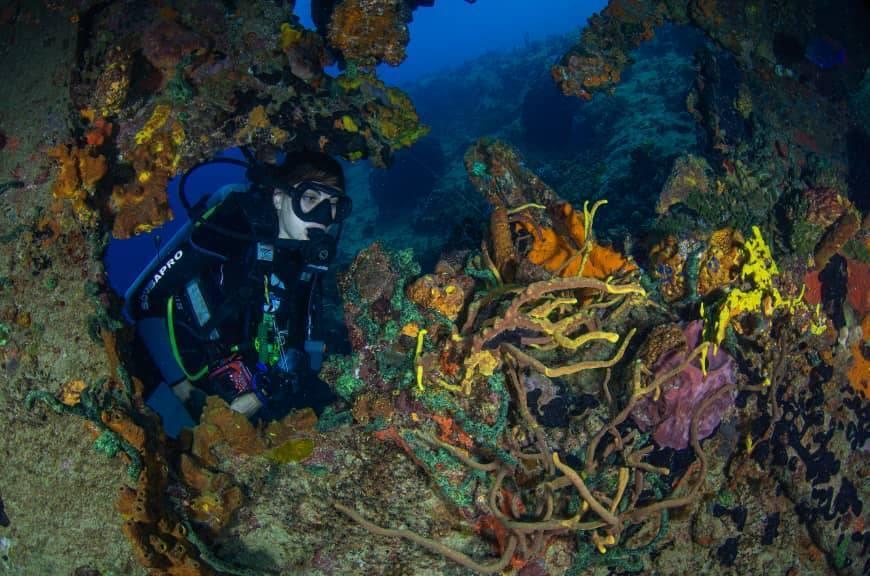 Researchers encountered a kaleidoscope of vibrant corals, even near densely populated cities and tourist areas. (Noel López Fernández/EDF Cuba)
Despite these advantages at certain reef sites, the expedition team found worrying signs, as record-breaking heat brought ocean water above 90°F during the time that the research vessel, the M/V Oceans for Youth, was at sea. 
"We saw unprecedented bleaching," says Patricia González, a marine biologist and a co-leader of the expedition. "And yet, in terms of mortality and diseases, we found very little. In spite of the extreme temperatures, the health of these reefs is relatively good."
When water is too warm, corals eject algae living in their tissues, which causes the coral to turn white. Although corals can survive bleaching events, it increases stress and mortality risk.
It's too early to draw solid conclusions from the observations, but the team hopes the reams of data, photos and video footage they collected will lead to a greater understanding of the mechanisms of coral reef resilience. 
This knowledge could lead to new management and conservation techniques to preserve and slow the degradation of reefs around the world.
Science diplomacy
More than 30 organizations, including the Marine Research Centre at the University of Havana, and Avalon-Marinas Marlin, contributed to the expedition. Environmental Defense Fund supported the research vessel and provided assistance with data-collection design and communications.
"We're honored to collaborate on this expedition," says Valerie Miller, director of EDF's Cuba program. "The conservation of coral reefs and marine resources in Cuba benefits ecosystems and communities in the United States and the entire region. Although the boat has docked, the science is just starting, and we are excited to learn together from the findings and share them with the world."
According to EDF's Daniel Whittle, who has been working with Cuban ocean scientists for two decades, "the expedition caps off 20 years of science diplomacy, building all these amazing connections and friendships and professional relationships. It's so exciting now to realize this deeper dive into these understudied waters, to discover the secrets they hold."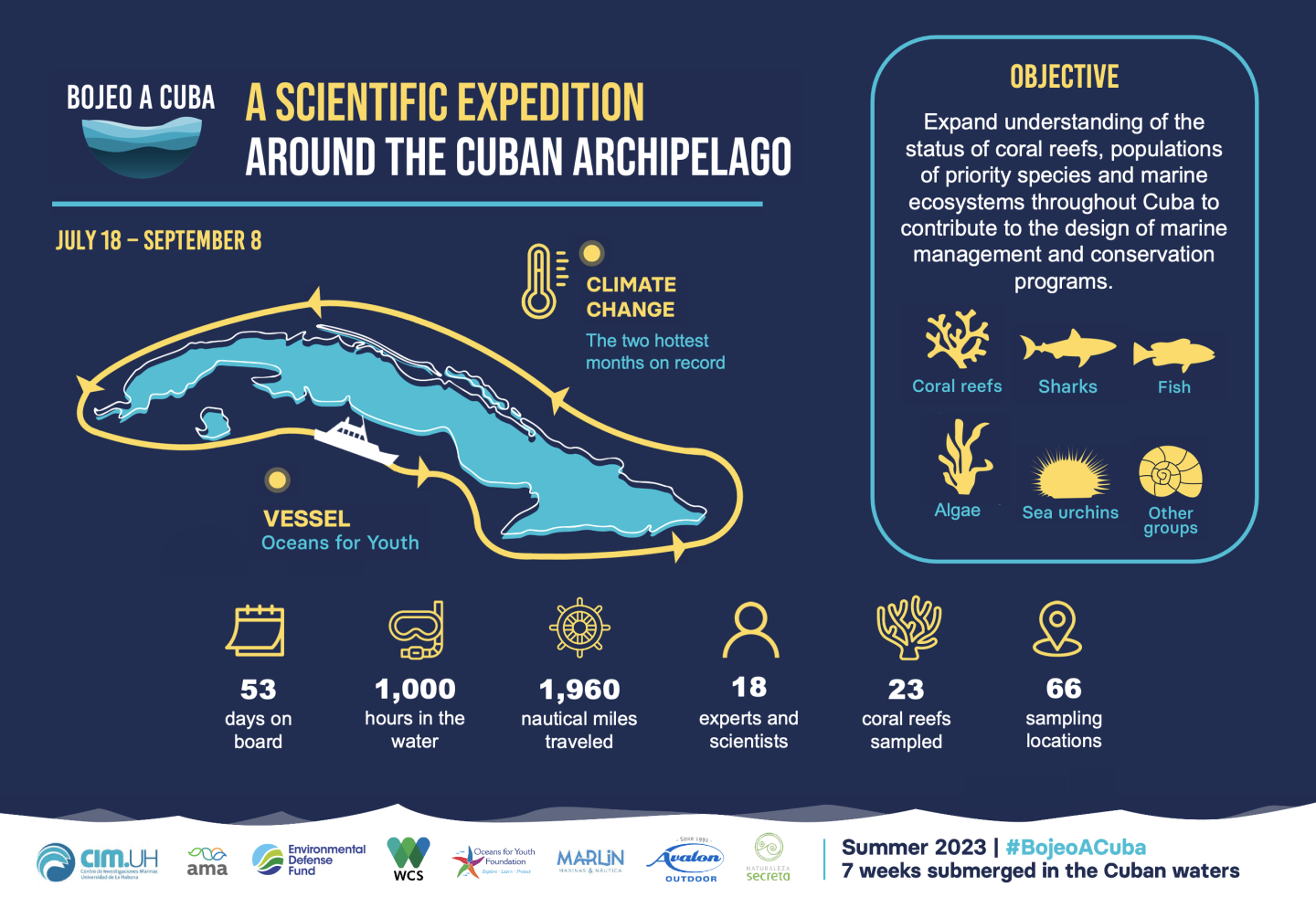 Sharks and sharing
The M/V Oceans for Youth departed from Júcaro, on Cuba's southern coast, on July 18 and made its way counterclockwise around the island.
Ports of call provided opportunities to promote ocean science, with the expedition's 24 scientists and other experts presenting workshops to share what they were seeing. 
Youth activities and citizen science projects included measurements of microplastics concentrated on beaches and in near-shore waters. 
Among the expedition's goals was an assessment of shark populations and the human activities that affect them. Pina said the researchers were disappointed by the scarcity of sharks and large fish like groupers and snappers across much of the surveyed zones. He suspects that overfishing may be contributing to the scarcity of large predators. 
One exception was several zones in southern Cuba, where a preliminary review of hundreds of hours of underwater camera footage showed sharks more frequently than expected. Researchers attributed this to the effect of marine protections.
Another welcome surprise was an unusually large school of colorful triggerfish in eastern Cuba, and the identification (pending confirmation) of several organisms that were previously unknown in Cuban waters. 
"In general, our ecosystems are well conserved," says Pina. "Even near densely populated cities you can find a wonderland of vibrant corals along the ocean floor. 
"This expedition opens new doors, enormous opportunities that we need to take advantage of if we're going to save this beautiful and essential part of the nation's and the world's natural heritage." 
Hope for a warming planet
Get the latest Vital Signs stories delivered to your inbox