Farmers, teachers, car buffs — the unexpected faces of the electric car revolution
What's it like to drive an electric car? Hear it straight from the people who do.
As electric vehicles get cheaper and car-makers introduce more options, EVs are gaining traction with all types of people — not just elite eco-warriors. 
From a car buff on his fourth EV to a Tesla-driving farmer, we talked to three drivers who went electric and haven't looked back.
"I drove my electric F150 6,000 miles last month and it didn't cost me anything."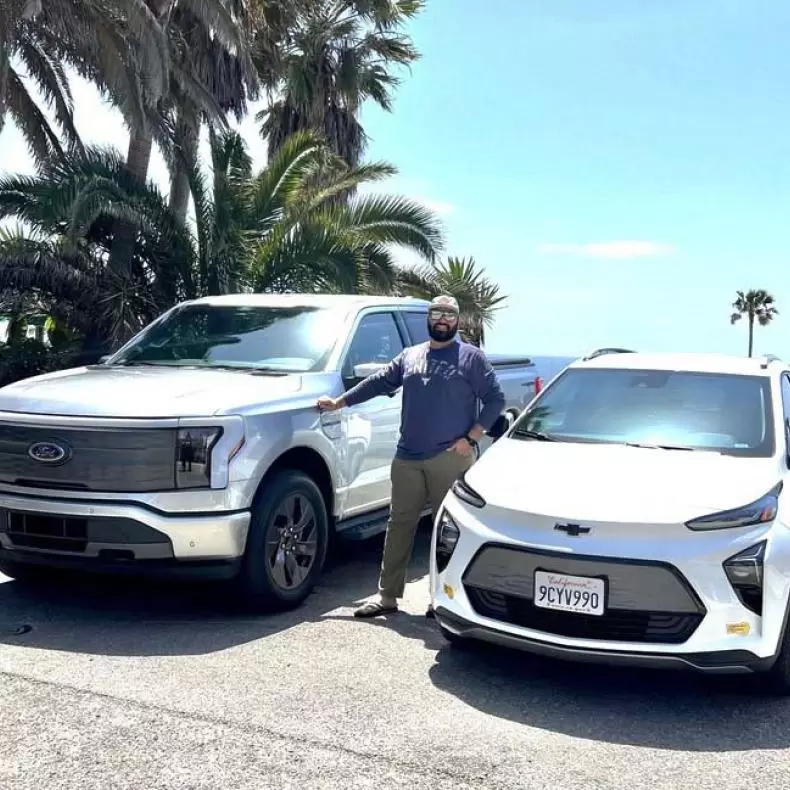 Name: Adrian Padilla
Occupation: Former U.S. Navy
Location: San Diego, CA
EVs: Ford F150 Lightning Lariat and Chevrolet Bolt
In 2021, Adrian Padilla was 22 and had just been medically retired from the U.S. military. 
Unsure what to do next, he embarked on a two-month road trip across the United States. 
"I had a Tesla Model 3 at the time, and I drove it around the entire perimeter of the country," he says. "That always blows people away — the fact that I could take that long of a trip in an EV and have no problems except for a flat tire." 
While cruising down the Pacific Coast Highway, Padilla decided to settle in California and is now studying real estate. A car enthusiast, he's since sold the Tesla and now owns a gas-powered Chevy Tahoe along with two EVs — a Chevy Bolt and a Ford F150 Lightning.
"I like fast, fun cars, and EVs tend to be peppy and fun to drive," he says. "But I got the Bolt because I didn't want to pay $350 per month in gas driving my Tahoe around California." 
Because the Bolt is a bit small for his 6'2'' frame, he recently purchased a Ford F150 Lightning Lariat EV, and will likely sell the Bolt. 
What he loves: "I drove my electric F150 6,000 miles last month and it didn't cost me anything in electricity because my house runs on solar, and I charge it at home," Padilla says, adding that he's driving more than usual because he's shadowing a real estate agent right now to learn the business. 
"I know there's a stigma on the price of electric trucks," he says. "But in my old gas-powered Silverado — which got about 16 miles per gallon — driving 6,000 miles would have cost me more than $1,500 in gas." 
Given that his electric F150 was comparable in price to his former gas-powered Silverado, Padilla finds the electric truck to be a better deal. "I honestly don't drive an EV for the environmental benefits — though I appreciate those benefits. I drive it to save money on gas and maintenance."
What he wishes more people knew about EVs: "People get caught up on this question of 'But could I take a long road trip in an EV?'" he says. "But I drive my electric truck about 220 miles per day and I do not need to publicly charge. In fact, I don't know of anyone who needs more than 250 miles in range for most of their driving."
"I just love leaving those gas-guzzlers in the dust."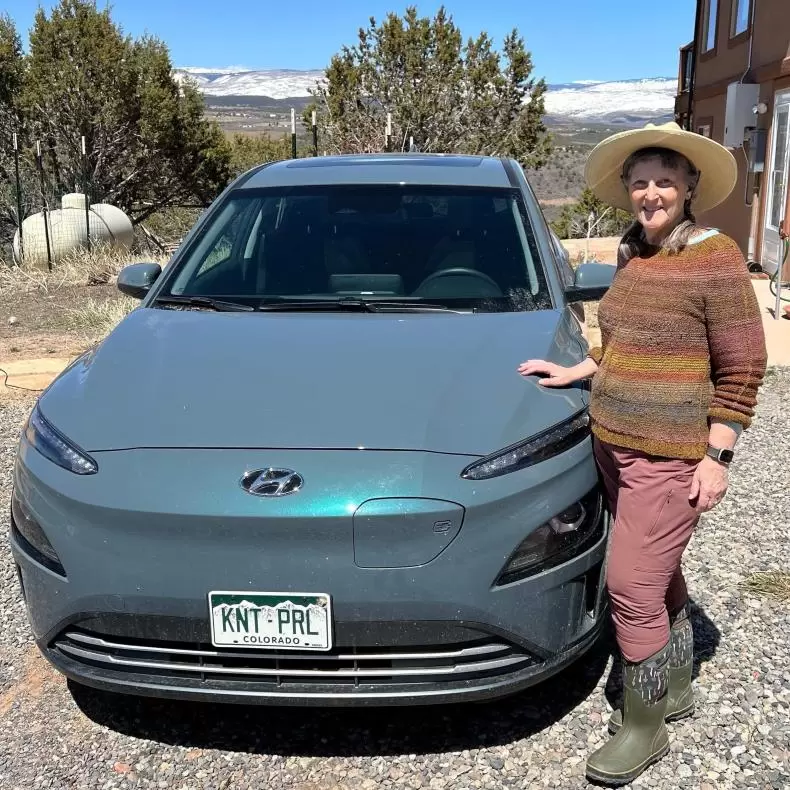 Name: Joan Hollins
Occupation: Retired teacher
Location: Rural Colorado
EV: Hyundai Kona Electric
Former middle school teacher Joan Hollins purchased an all-electric Hyundai Kona in 2022. It's the 62-year-old's first electric vehicle.
Why the Hyundai Kona? "I'd been thinking about buying an EV, but was worried about their range since I live in a rural part of Colorado with few charging stations. Then I met another older woman with a Hyundai Kona EV. She told me she was driving it from California to Maine! We chatted for a while, and I saw her confidence and excitement — and I just thought, 'That's what I want to do.'" Plus, Hollins says that the Kona was similar in size to the Honda CR-V she was used to, so she knew it would fit her lifestyle. 
What she loves: "It's the zippiest, most fun car I've ever driven," says Hollins, adding that her grandchildren love riding in it — especially when she hits the accelerator. "I just love leaving those gas-guzzlers in the dust!" Hollins also enjoys not having to buy gas and having less maintenance. "There are no more oil changes," she says.
What's been an adjustment: "I mostly charge at home, but living in a rural area, I have to make sure that there are charging stations when and where I'll need them," she says. "But I can drive 250 miles on one charge, which is more than enough for how I typically use the car." 
When traveling longer distances, Hollins uses Google Maps to find charging stations. "It just requires planning ahead," she says. While she did have to wait several hours to charge once (at a slow-speed charging station), she's never been stranded. 
What it cost: Hollins and her husband received $15,000 for two old cars they traded-in plus $10,000 in state and federal tax credits making their total out-of-pocket cost $15,000. ​​​​
"The Tesla has replaced our pick-up truck on the farm."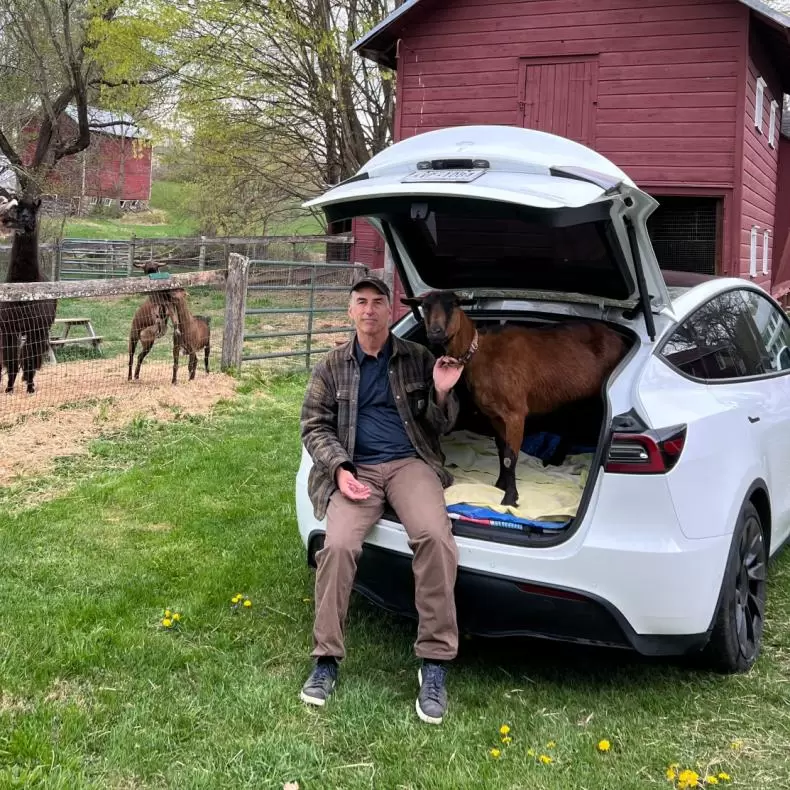 Name: Robert McKeon
Occupation: Farmer
Location: Red Hook, NY
EV: Tesla Model Y
When he's not running his farm, Robert McKeon runs his town. He was elected town supervisor of Red Hook, NY, in 2016, which means that in addition to being a full-time livestock farmer, he also handles the operations of his municipality. 
It was that role which inspired him to purchase an electric car. 
"I had applied for a federal grant to install charging infrastructure in our town, and I thought I should practice what I preach," he says. After several years of driving plug-in hybrids, he recently went fully electric with the purchase of a Tesla Y.
Why a Tesla Y: "The Y is useful for its cargo space when I go to buy grain or other items for the farm," McKeon says, adding that he uses the car to move feed, bedding and supplies. "Believe it or not, the Tesla has replaced our pick-up truck for almost everything on the farm except transporting animals." (Though in a pinch he can use it to carry a few goats!) 
Why he thinks EVs make sense for farmers: Most farmers don't drive long distances, McKeon says, so an EV is a great option for getting around, moving supplies or going out to make repairs.
"I was inclined to go electric because of the environmental benefits," he says. "We practice regenerative farming, and our cattle roam the property. They are all grass-fed, no grain. That means there are less emissions, and less methane is generated." 
What he's learned: While he likes the Y, McKeon says the next vehicle he buys for the farm will be an electric pick-up truck for the towing capacity. 
"Red Hook acquired an electric Ford F150 EV a few months ago, and I've been surprised at how well it performs," he says. "I'm especially impressed with its bidirectional charging feature. If we were to have a power outage at a municipal building, we can use the truck as a generator." 
That's something McKeon says he'd find useful on his farm too — he's  just waiting for a truck with a longer range to come out.
Hope for a warming planet
Get the latest Vital Signs stories delivered to your inbox