Exposed: The social media hoax that tried, but failed, to kill America's biggest ever climate law
Why would a clean power group be against the largest investment the U.S. has ever made in clean power?
Because it wasn't really a clean power group. 
Just as the Inflation Reduction Act gained momentum to pass the U.S. Senate in late July, a nonprofit called United for Clean Power launched a digital ad campaign calling on progressive members of the House of Representatives to "demand environmental justice or kill the reconciliation bill." 
"The messaging struck me as bizarre because no progressives were coming out against the IRA at that point," says Environmental Defense Fund's Lauren Guite, who represents EDF in the Climate Action Against Disinformation Coalition, a global group of organizations united to fight misinformation about climate change.
Guite reached out to her coalition partners to find out if the group was legitimate. No one had ever heard of United for Clean Power.
"That was a red flag that these ads weren't above board," Guite says.
Who was behind United for Clean Power?
Coalition members got in touch with Kyle Tharp, a journalist who covers online tactics and trends in politics, to see if he knew anything about United for Clean Power. He didn't, but saw an opportunity to break a story on dark money trying to kill the Inflation Reduction Act on his popular Substack newsletter, FWIW.  
Tharp asked investigative journalist, Judd Legum, to help him, and the duo began pouring through years of IRS records. The records showed only one donor to United for Clean Power: Freedom Frontier, a nonprofit linked to dark money — political spending that's made through a nonprofit to avoid being required to disclose the donor. 
They also found that United for Clean Power had spent more than $40,000 on ads with Google and at least $30,000 with Facebook. It also "took over" Politico's homepage with an anti-IRA ad, which can cost more than $150,000 per day.
"We came up with a theory that United for Clean Power was a shell nonprofit being used as cover to fund a campaign to kill the Inflation Reduction Act," Tharp says.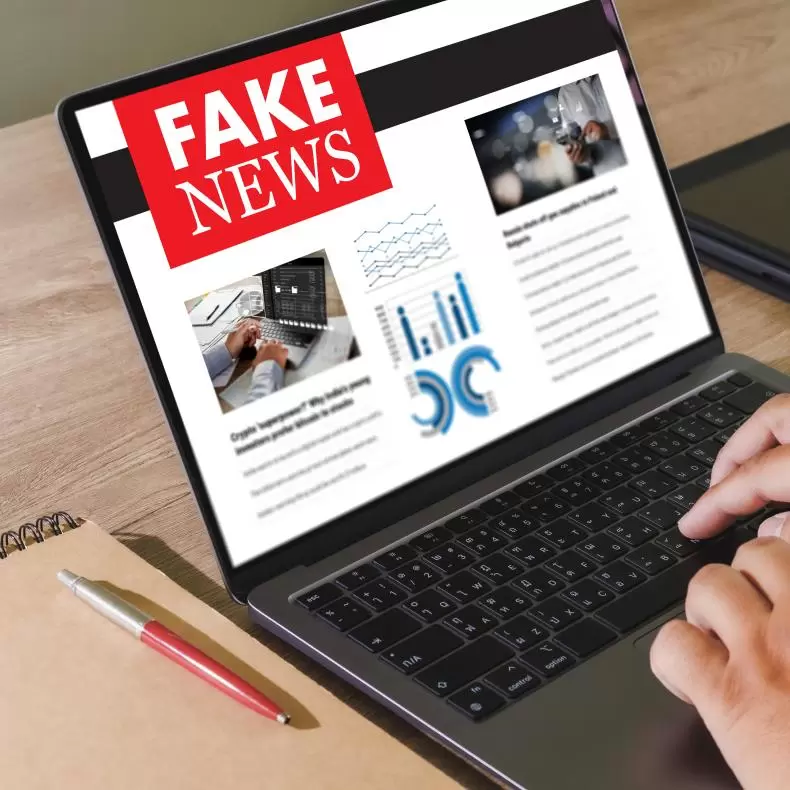 Members of the U.S. House of Representatives were targets of an unsuccessful sham campaign designed to kill the Inflation Reduction Act. (Getty)
Eventually, Tharp found the organization's director: Greg Finnerty. Finnerty lives in Ohio, and is the only person formally associated with United for Clean Power right now. Tharp reached out, but Finnerty didn't want to speak by phone, only via text message. He didn't respond to any questions about United for Clean Power's funding.
"There is a network of political operatives who start and stop dark money groups all the time," says Tharp, adding that he and Legum found that Finnerty was, in fact, connected to a consultant who had started at least 40 different "zombie PACs".
Political action committees (PACs) with misleading names are frequently used by political operatives to manipulate public opinion. When fake ads are designed to look like they come from a grassroots movement of concerned citizens to sway their elected leaders — like the ads from United for Clean Power did – insiders call it "astroturfing."
Scam ads can be hard to thwart. But this time was different.
Just days after Tharp and Legum published their in-depth investigation revealing that United for Clean Power was not a legitimate environmental nonprofit, the Washington Post picked up the story — and the ads suddenly disappeared.
"This was a very specific campaign that aimed to persuade a small group of progressives in DC to vote against the bill," says Tharp. "So once we exposed that it was a sham, the entire campaign was rendered ineffective."
What you can do
While truth prevailed in this instance, disinformation online is a serious and growing problem. 
One study estimated that climate misinformation is viewed up to 1.36 million times every single day just on Facebook. These lies have misled millions and eroded trust in experts.
Only one platform, Pinterest, has taken steps to eliminate content that denies climate change is happening and influenced by human activity.
EDF and other environmental groups advised Pinterest on this policy change and continue to meet regularly with other social media companies to push them develop better methods to stop the spread of climate change disinformation.
"We've got a long way to go, but we've built connections at social media companies and with other nonprofits to fight disinformation about climate change online," says Guite. "So, if an EDF supporter sees something fishy online, we want you to tell us, and we'll look into it."
"The big takeaway is if you see something, say something," Guite adds. 
Hope for a warming planet
Get the latest Vital Signs stories delivered to your inbox