Deep inside the Amazon, Indigenous leaders are fighting to preserve the rainforest and stabilize the climate
Author
Rod Griffin
Photographer
Leslie Von Pless
Update Oct. 6, 2023: This piece was updated to include the fact that Indigenous advocate Juan Carlos Jintiach was shortlisted to receive the 2023 Nobel Peace Prize. 
Update Aug. 25, 2023: In a national referendum , Ecuador voted to ban oil drilling in Yasuni National Park, home to two isolated Indigenous communities and one of the most biodiverse regions on the planet.
---
More than 9 million acres of tropical primary forests were cut or burned in 2021.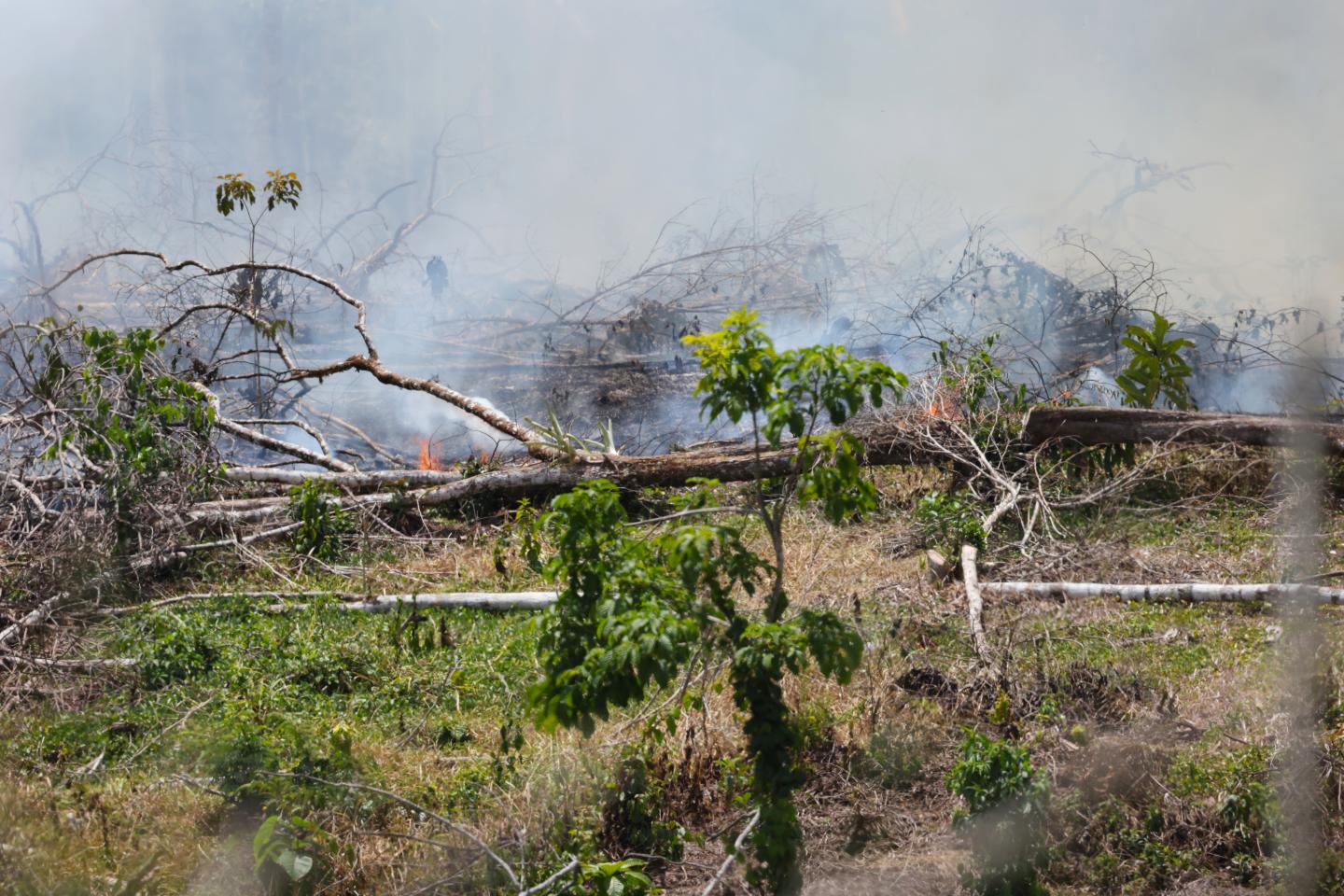 Forest loss in 2021 released climate pollution equivalent to the annual fossil fuel emissions of India.
Scientists warn that degradation of the Amazon is pushing it closer toward a tipping point of ecosystem collapse, turning lush jungle into a dry savannah that emits more carbon dioxide than it absorbs.
Deforestation rates in Indigenous territories in the Amazon, however, are roughly half of what they are in similar surrounding lands, according to satellite imagery. 
Indigenous Peoples manage more than 30% of the Amazon rainforest and typically practice sustainable forest management through agroforestry and low-impact agriculture. 
But reward for that stewardship is often lacking.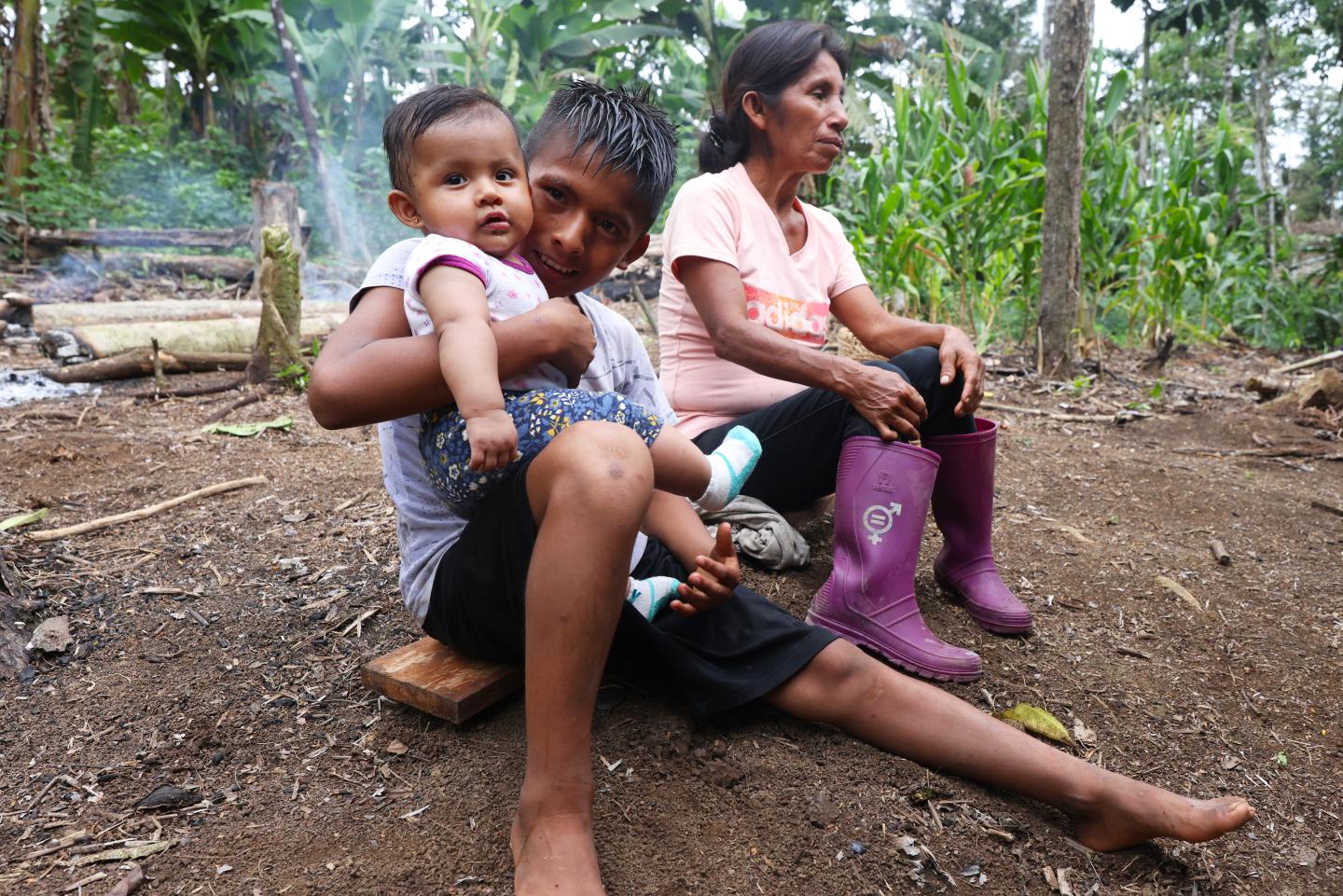 Less than 1% of international climate assistance reaches forest communities like the Shuar people of Ecuador.
Over the last decade, the international community has plowed $2.7 billion into rainforest preservation with more promised to come. 
Yet less than 1% of climate assistance lands in the hands of forest communities.   
If you're trying to save the rainforests, it makes sense to work with the people who know them best. 
At age 10, Tuntiak Katan of the Shuar people (above left, with Santiago Garcia of EDF), who inhabit the remote Amazonian rainforest in southeast Ecuador, had a vision. It was brought on by floripondio, a potent hallucinogenic plant given to him by his grandfather in a ritual. In his vision, Katan saw himself among tall buildings in a big city — an unlikely notion for a kid who'd never left the jungle. 
Thirty-two years later, Katan frequently finds himself among skyscrapers on the global stage. He was recently elected the general coordinator of COICA, a leading organization that advocates for the rights of Indigenous Peoples from all nine nations in the Amazon Basin. In 2022, Katan traveled to Egypt, where he was a featured speaker at the COP27 climate negotiations.
"We're finally getting recognition for our role managing forests," says Katan, "but we need to be seen as partners." 
Forest protection for the people, by the people 
A new global initiative, the LEAF Coalition, a public-private partnership for forest conservation, has mobilized more than $1.5 billion to protect the world's rainforests through the purchase of high-quality carbon credits. When the money starts flowing, Ecuador is expected to be one of the jurisdictions to benefit. The challenge now is to ensure the money also reaches communities like Katan's. 
Environmental Defense Fund is one of the organizations behind LEAF. EDF has been leading workshops with government officials and Amazon Indigenous leaders to help with the development and implementation of forest protection plans. 
"Indigenous organizations must be directly involved in decision-making on how funds will be distributed," says Santiago Garcia, EDF's Indigenous Peoples specialist. "It's more than about trees and carbon, it's about people and communities."
Tuntiak's choice
The 60-mile, pot-holed road to Katan's home village of Tuutinentsa was cut through the dense jungle just four years ago. It brought important services, such as health care and education, but also the threat of deforestation.
Every few hundred yards, piles of neatly stacked logs line the roadside, evidence of the receding forest.
"We have two options," says Katan. "We can conserve the forest or cut it down for profit."
For Katan, the choice is obvious. Walking up the trail behind his hut, he points to a small plot of land called aja in the Shuar language. Ajas are an ancient example of low-impact forestry. They are food and medicine gardens that have formed the backbone of food systems for Indigenous Peoples in the Amazon for millennia. 
"If we take care of the forest," Katan says, "it will take care of us."
The road to a solution
A six-hour drive north of Katan's community, nestled at the foot of the Andes, is Ichu Urku, a small enclave of 14 Kichwa families reachable only by driving through a riverbed swollen from recent rains. 
Even in this remote corner of Ecuador, residents are working on a solution that offers a vision for how economic forces could help save swaths of the Amazon.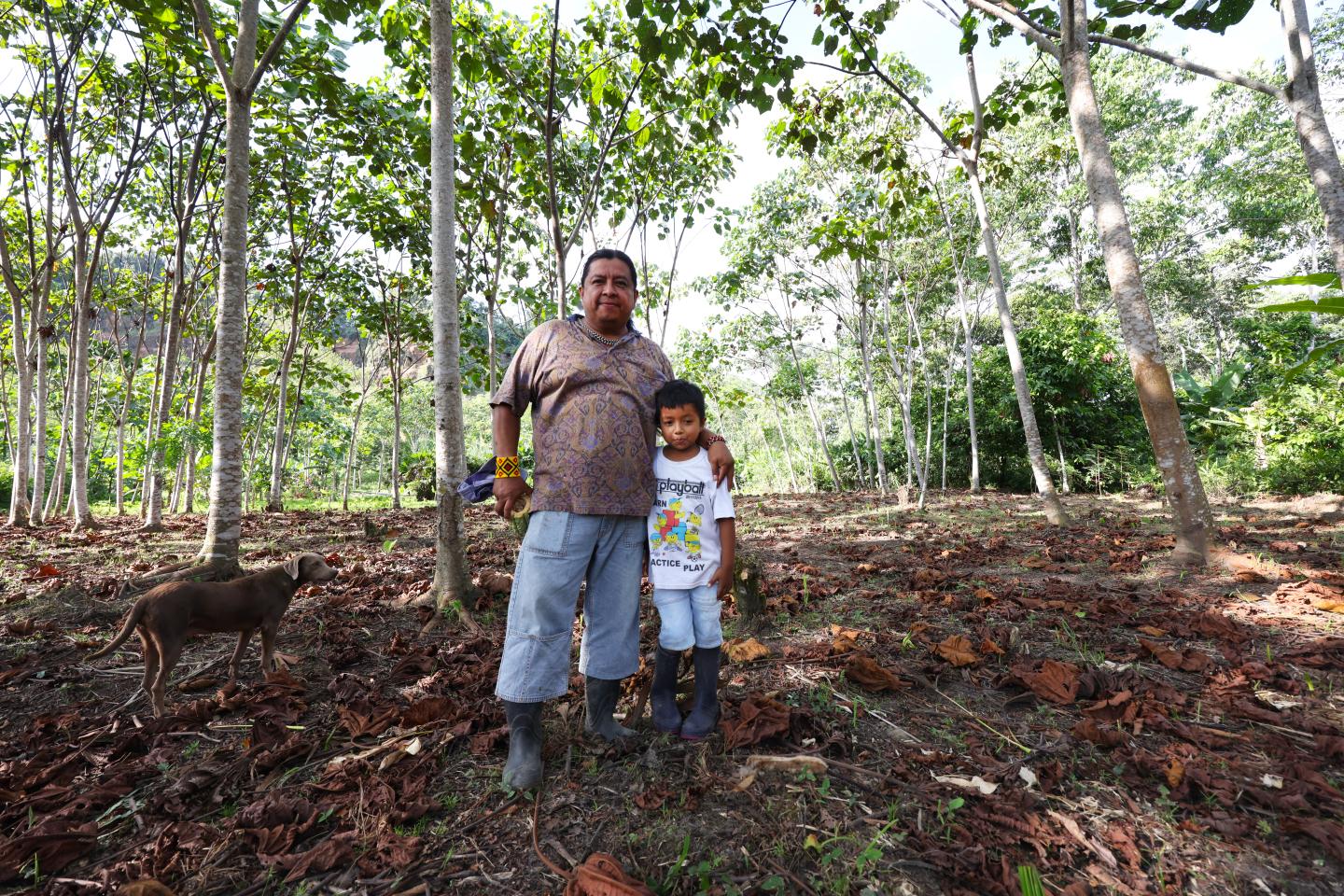 Juan Carlos Jintiach and his son in a grove of fast-growing, carbon-storing balsa trees. 
Juan Carlos Jintiach runs a small farm in Ichu Urku with his wife and extended family. 
They grow traditional crops like cacao, plantains, yucca and balsa trees (known for their carbon sequestration potential and fast growth rates).
Four years ago, Jintiach helped found Asociacion Wiñak. 
Asociacion Wiñak is a farm cooperative selling wayusa, a local plant used in tea, energy drinks and medicines. The facility also produces chocolate from cacao. 
Today, 263 Indigenous families are supplying crops to the cooperative, earning income for the community.
In nearby Laguna Azul, local Kichwa families run an ecotourism business. It's paradise, with cascading waterfalls and natural pools formed by a tributary of Río Jatunyacu.
"By practicing agroforestry and providing ecotourism services, we are part of the climate solution," Jintiach says. "We have to provide alternative sources of income. Otherwise, economic pressures on these communities will make it even easier for mining and deforestation to continue."
Jintiach has been a passionate advocate of Indigenous rights for more than two decades, and currently serves as technical secretary to the Global Alliance of Territorial Communities. In 2023 he was shortlisted to receive the Nobel Peace Prize for his work to end deforestation and protect the climate. 
 He's also an outspoken critic of illegal gold mining, which is contaminating rivers with toxic mercury. Because of his activism, Jintiach has received death threats from outsiders driven by greed.
"I am willing to die defending the rights of Indigenous Peoples and the forest," he says. "But I do fear for my children."
Paradise lost
If Laguna Azul is the paradise of the Ecuadorian Amazon, Lago Agrio, in the oil-rich north, is the opposite.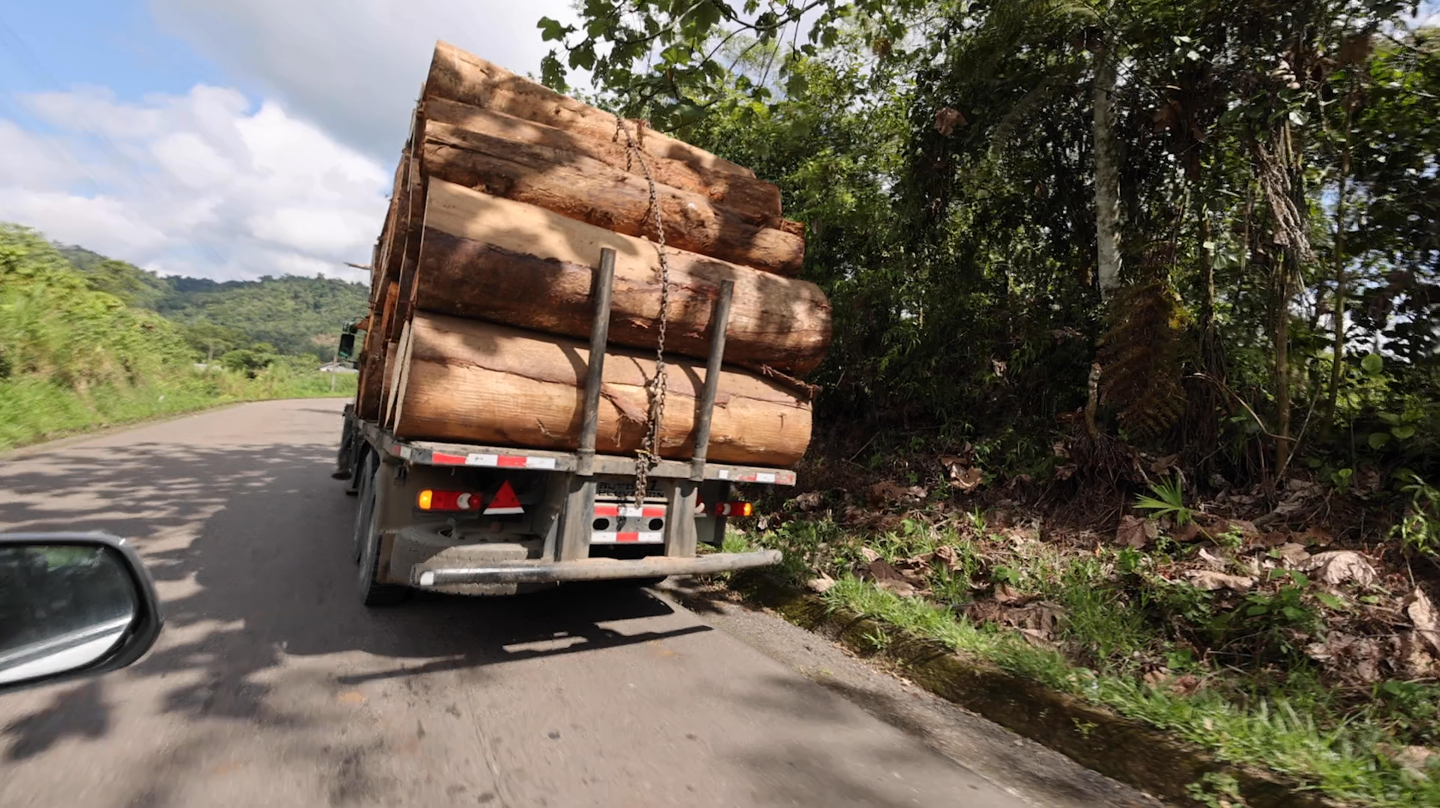 Old-growth trees are spirited out of the forest on illegal logging trucks.
The landscape is fouled by abandoned oil derricks, rusting pipes and chemical settling ponds. Trucks carrying illegal cargo of logs from the primary forest rumble past. Another transports palm fruit. Clearing forests for oil palm plantations is a growing threat in the Amazon.
The entire area was once jungle, inhabited by the A'i Cofán people, but the population has dwindled as the land has been fragmented by development. 
After decades of exploitation by oil companies that contaminated streams and threatened forests, the A'i Cofán community has sealed off its borders, installed indigenous park rangers and opted for greater isolation.
UPDATE: In a national referendum in August, 2023, Ecuadorians voted to ban oil drilling in Yasuni National Park, not far from Lago Agrio. The area is a UNESCO-designated world biosphere reserve and home to two Indigenous communities who live in voluntary isolation. 
"The A'i Cofán Dureno territory is an island of green surrounded by oil wells and monoculture," says Ramiro Ortiz, 31, a young A'i Cofán leader. 
Vigilance is key. 
After a lawsuit filed on behalf of nine A'i Cofán girls, Petroecuador, the national oil company, was supposed to stop flaring gas. But when A'i Cofán guardians mapped sites using cell phones, they counted 447 still operating. 
In 2021, when news spread that Petrocuador planned to drill more wells on A'i Cofán territory without consulting the community, Indigenous activists armed with spears shut down the access route.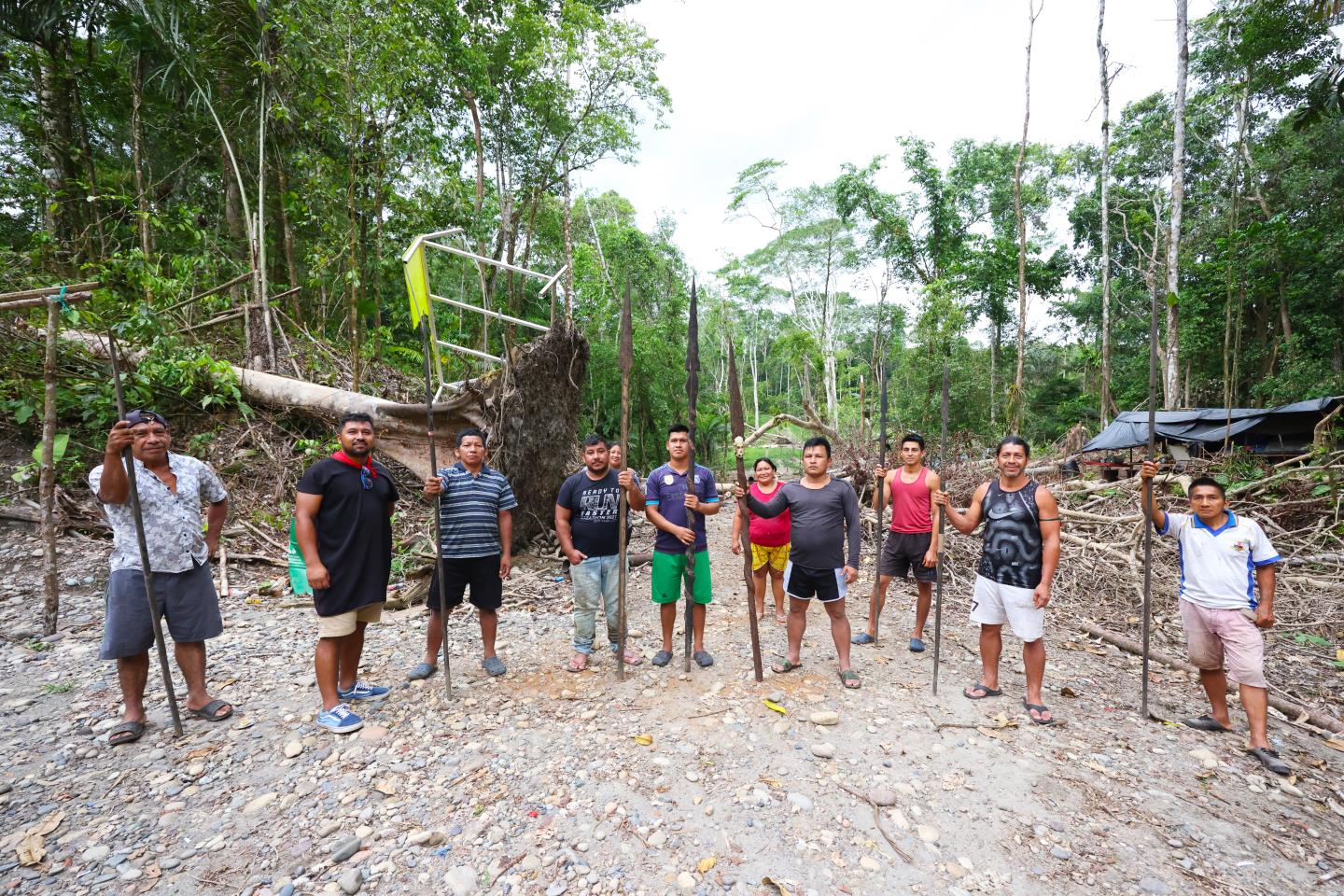 Indigenous people in the Amazon are forced to defend their homes against illegal mining and drilling. 
Despite this, Ortiz remains hopeful. In his village, Dureno, reachable only by boat, music pulsates from homes, laughter fills the air and children play volleyball in the 100-degree heat. 
In addition to monitoring extractive industries, Ortiz is engaged in seed saving and educating youth about traditional culture.
Markets for high-quality carbon credits being developed under initiatives like LEAF offer forest communities the chance to be rewarded for their stewardship — ending the false choice between earning a living and conserving the rainforest.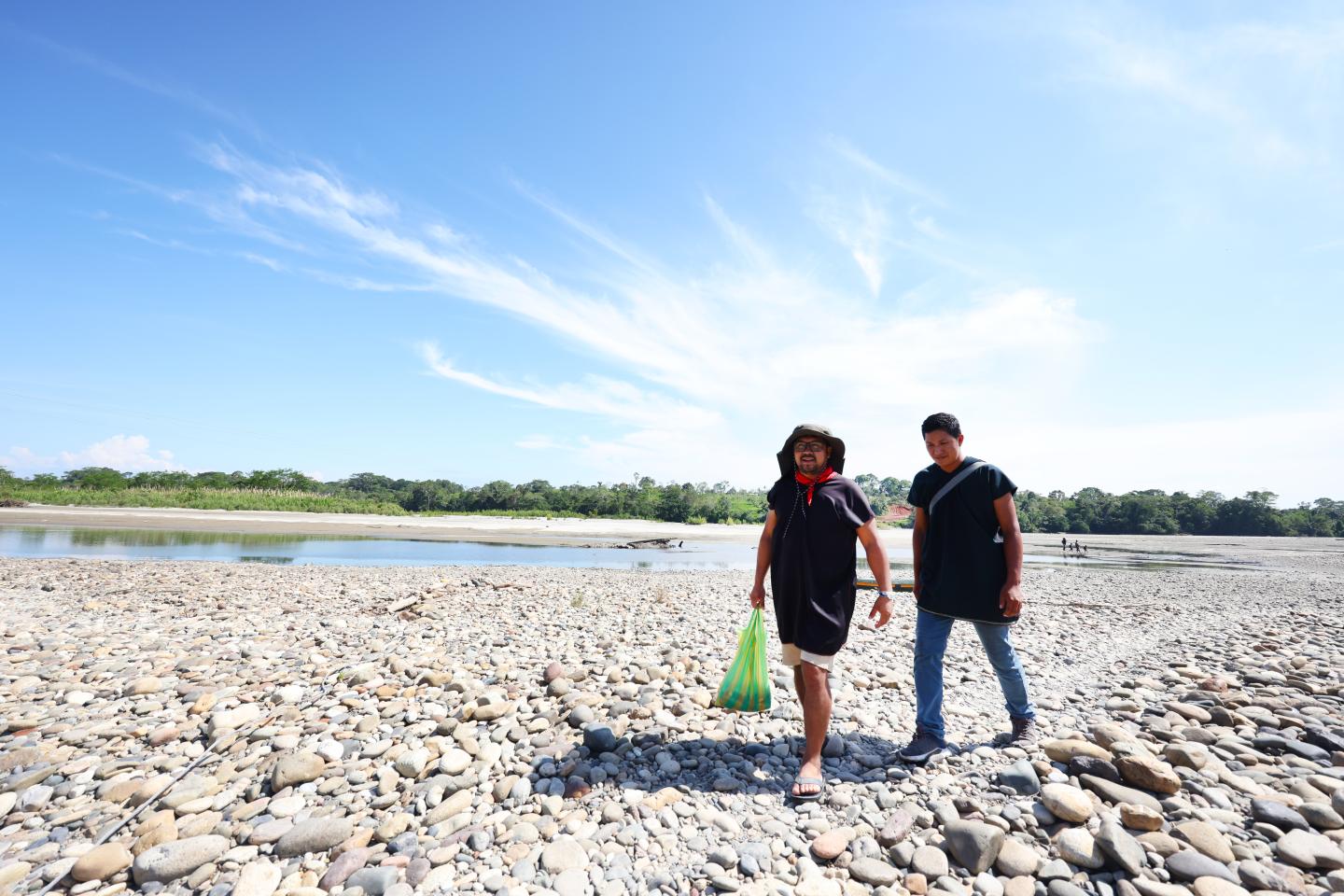 After crossing the river and disembarking the boat, a stone path leads into the community.
"As an educated person, I can go anywhere in the world," says Ortiz, "but my heart, my mind, my feelings belong to this place."
The A'i Cofán are a proud people. The last thing they plan to do is disappear.
Hope for a warming planet
Get the latest Vital Signs stories delivered to your inbox